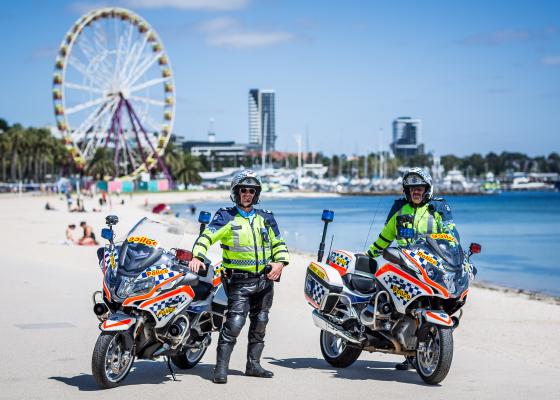 By Luke Voogt
Motorists speeding and using mobile phones are in the sights of police patrolling Geelong on two new motorcycles.
Geelong Highway Patrol officers riding the two 'solos' from December 1 to January 7 nabbed 101 speeding motorists, Senior Sergeant Craig Stevens said.
Among those caught speeding was a learner motorcyclist riding at 165km/h in a 100km zone, who had his ride impounded.
"Three motorbikes were impounded that day and they all incurred significant fines and loss of license," Senior Sergeant Stevens said.
Officers riding the new motorbikes have also caught 55 motorists using their phones, who incurred $496 fines and four demerit points, and issued fines for 24 seatbelt offences.
"Sometimes it's the only way people learn," Senior Sergeant Stevens said.
"The motorbikes have been really effective for road distraction offenses such as seatbelts and mobile phones.
"They've got a good vantage point to see into motor vehicles. They also have the capability to conduct alcohol and drug testing.
"The bikes are being trialled over December and January and we hope to secure some permanent bikes in the near future."
The trial is the first time Geelong Highway Patrol has had the motorbikes in their fleet in seven years, according to Senior Sergeant Stevens.
"Previously we just didn't have any qualified riders and if you don't use an asset it goes to another area to be used," he explained.
"We've recruited three riders recently bringing our total to five, which means we can make good use of the new solos."
The motorbikes had decreased response times for accidents with officers able to ride through gridlocked traffic, Senior Sergeant Stevens said.
"They're also going to be terrific for events when they're up and running again."