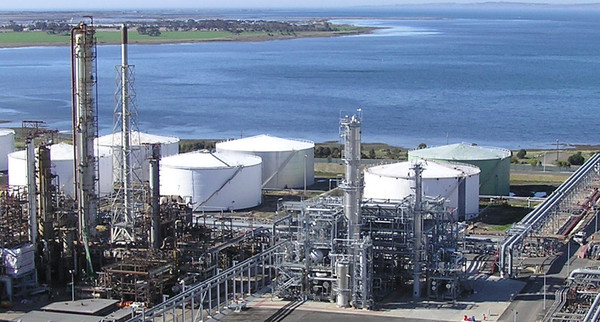 By Luke Voogt
A "lifeline" for Geelong's oil refinery and its 700 employees will commence on January 1, federal government has announced.
Energy Minister Angus Taylor and local senator Sarah Henderson on Monday announced a one cent per litre subsidy for Australia's refineries, including Viva Energy's Geelong refinery.
"After such a difficult year, this is a real lifeline for one of Geelong's most significant employers," Senator Henderson said.
Under the "accelerated" production payment, worth $83.5 million over six months, Australia's major oil refineries will receive one cent in taxpayer funding per litre of petrol, diesel and jet fuel.
Federal government initially announced a fuel security package worth a total of 1.15 cents per litre for July 1, 2021, but has brought forward the one cent production payment component.
Government plans to introduce a long-term market mechanism by July 1 but is still working with industry to finalise the details.
Monday's announcement comes amid warnings from Viva that its Geelong refinery, which provides about 50 per cent of Victoria's liquid fuel needs, faced "full shutdown" without government assistance.
In a statement to stakeholders Viva warned that a massive slump in global fuel demand due to COVID-19 threatened the refinery's viability.
According to government modelling, local fuel prices would jump about one cent per litre if all of Australia's refineries were to close.
"The production payments will help the industry withstand the economic shock of this crisis, protecting local jobs and industry, bolstering our fuel security and shielding motorists from higher prices," Mr Taylor said.
To receive the production payment refineries must continue to operate for the duration of the program, commit to "an open book process" to develop a long-term package and demonstrate "commitment to long-term self-help measures".
Corio MP and deputy opposition leader Richard Marles welcomed the measure but described it as overdue.
"These are critical jobs, especially to Geelong, and the Morrison Government should have stepped in sooner," he said.
"The reality is, the bringing forward of this measure is a concession that the government did too little for too long.
"Angus Taylor must ensure the government's fuel security policy is more than a series of photo opportunities – and they must actually deliver the security and support our refineries' need, including assistance to modernise operational capability, and help Australia secure fuel security."
"Properly" supporting Viva was in the national interest and important for Geelong's economy, Mr Marles added.
Geelong Sustainability supported the investment as an interim support measure until Australia moves toward sustainable transport like electric and hydrogen-powered vehicles.
"We do not, however, support the government's gas-led recovery nor Viva's plans for a gas import terminal in Corio Bay," Geelong Sustainability president Vicki Perrett said.
"We will continue to advocate for manufacturing workers to have more secure employment in the rapidly-growing industries powered by renewable energy."