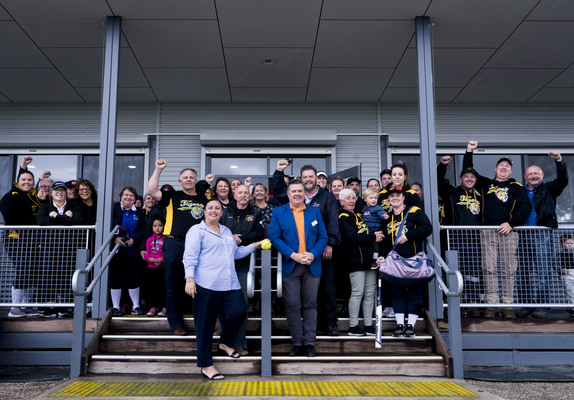 Geelong softball and baseball players scored a $1.3 million home run when council officially opened a new pavilion at Stead Park, Corio, on Wednesday.
Deputy mayor Kylie Grzybek threw a symbolic 'first pitch' as she joined fellow Windermere ward councillor Anthony Aitken at Geelong's newly-upgraded "home of softball".
"Stead Park is one of the most important facilities, not only in Corio, but across the region, and is a hidden jewel in our north," Cr Aitken said.
"I'm proud that the council continues to provide upgrades such as this new pavilion to ensure Stead Park keeps meeting the needs of our community."
The upgrade would allow Geelong Softball Association and Corio Tigers Baseball Club host regional tournaments and "bigger and better" social events, Cr Aitken said.
"This new facility presents (them) with a fantastic opportunity to grow and attract more members."
Geelong's council fully funded the upgrade, featuring a social area, two change rooms, umpire rooms, a kitchen, a bar, and an undercover viewing deck.
The pavilion's "modular" build reduced construction time, with workers craning pre-built modules into place following the demolition of the old pavilion, according to City Hall.
Along with softball and baseball diamonds, Stead Park boasts hockey fields, soccer pitches, playgrounds and other public spaces.