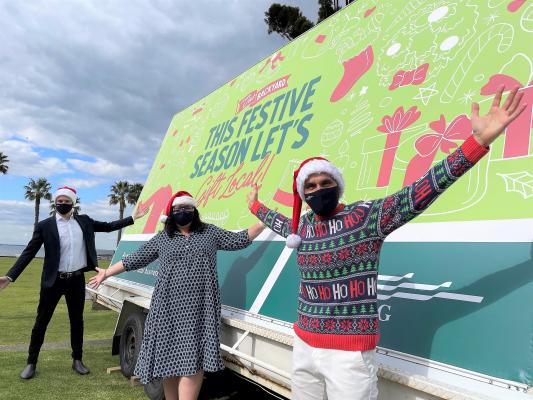 An expanded program of free Christmas events and activities, including a giant Christmas selfie trail across 22 destinations, will be unveiled in Geelong.
The City of Greater Geelong gave a sneak peek into the festive cheer, with highlights including a floating Christmas tree, projections on City Hall, school Christmas trees in Johnstone Park, a Christmas trail, street entertainment, Santa's letterbox, selfie competition and a Giving Tree Appeal.
Deputy mayor Trent Sullivan this week unveiled a glimpse of the city's promotional campaign for Christmas alongside a billboard at Eastern Beach that proclaims 'Christmas is coming.'
Next week, a giant Christmas tree will also be rolled out on the wall of the civic carpark opposite Geelong City Hall.
"With an iconic Christmas tree that illuminates Corio Bay, the City of Greater Geelong is Victoria's home of Christmas this holiday season," Cr Sullivan said.
"It has been a tough year for residents and businesses so we're lighting the way with a program of free events and activities so that everyone can experience the joy of Christmas."
Brownbill ward councillor and arts, live entertainment and hospitality portfolio chair, Eddy Kontelj said council had been successful in bringing forward the build-up to Christmas.
"Given the challenging pandemic environment we have all been living through, we really want to create some positivity now, whilst also providing the community, including families and children, with something to look forward to and get excited about," Cr Kontelj said.
"November and December are such a critical time of year for our hospitality businesses, so we're encouraging everyone to dine out locally while enjoying the free entertainment and attractions provided across the region."
Windemere ward councillor Kylie Grzybek said the 'Giant Christmas Selfie Trail' will feature 22 destinations across the region, including five interactive artworks across Corio, North Geelong, and Norlane.
"Whether you want to stay local or pack the kids in the car to visit all 22 destinations on the Giant Selfie Trail, there's something for everyone," Cr Grzybek said.
"We're creating experiences that are perfect for family photos and selfies. There will be Candy Canes, a surfing Santa and of course some mistletoe."
Prior to COVID-19, Geelong's Christmas program generated an estimated $18.5 million in economic activity and attracted more than 330,000 visitors, council said. The floating tree alone attracted 193,000 visitors.