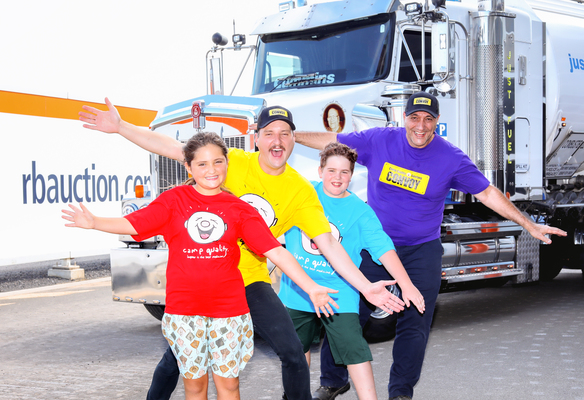 by Luke Voogt
After Olive Pobjoy survived a rare and aggressive form of cancer at age four, Camp Quality helped her be a kid again.
Her father Andy remembered her diagnosis of Burkitt's Lymphoma seven years ago, ahead of fundraising convoy of 200 trucks and motorbikes coming to Geelong this Sunday.
"We just went into full survival mode," he said.
"You don't leave your kid's side when that happens. (Olive's mother) Jess basically lived in the hospital and I crashed anywhere I could in Melbourne.
"You start to realise how vital these charities are when you're in a tight spot and hit with news like this."
Camp Quality helped Olive through her treatment, Jess explained.
"Their puppets helped Olive to talk, laugh and smile in hospital even when she hadn't for days," she said.
"Camp Quality brought joy into her life at the darkest time."
Burkitt's Lymphoma begins in immune cells and results in a fast-growing tumour that can be fatal if untreated.
But after months of treatment following her diagnosis, Olive, now 11, went into remission.
The family later went on camp with the charity and "the kids did some pretty awesome activities" that helped Olive be child again, Andy said.
This Sunday the Camp Quality Geelong Convoy comes to Richie Bros. Auctioneers, Corio, before travelling in a 50km loop and returning for a 'show and shine' day.
Organisers and participating truck drivers, like Mario Gaffiero, hoped to raise $80,000 and urged anyone interested in getting involved to visit bit.ly/2OeCkYB.
"Charities like this only exist because of generous people who roll up their sleeps to raise money," Andy said.