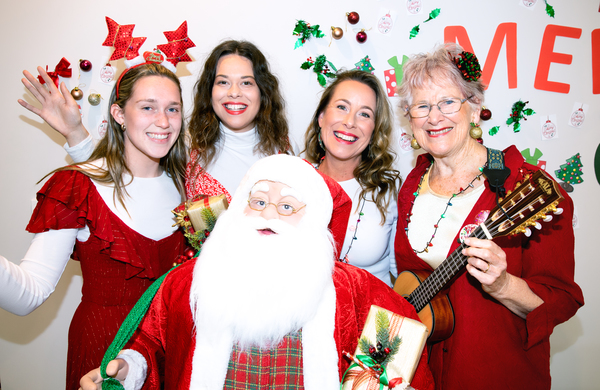 by Luke Voogt
After decades singing for seniors Joy Barnett joined her daughter and two granddaughters for a special Christmas performance on Wednesday.
The Grovedale grandmother performed in this family quartet for the first time in a show for local aged care residents.
"I love music and I love the older generation," the 74-year-old said.
"I go in to bless them but when I come out my cup is just running over with the love they give me back.
"Some of them are pretty sleepy and don't take notice, at first, but by the end of it they are awake and happy."
Often dementia sufferers would come alive singing along to old classics, Joy said.
"I sing songs from the '40s, '50s and '60s, that's when they grew up, so they can identify all these songs."
Joy sang and played the ukulele alongside daughter and granddaughters Katherine, Chloe and Kyla Kacprzak.
The long-time Grovedale resident had performed for senior citizens, charities and community groups for about 30 years, she said.
She had long been involved in music and amateur theatre in Geelong, she added.
"My daughter Katherine used to come to rehearsals with me when she was three-years-old. That was while I was bringing up four children – that was my outlet."