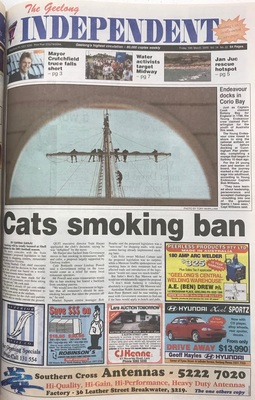 20 years ago
March 10, 2000
Smoking will be totally banned at Shell Stadium by the 2001 football season.
The move coincides with the State Government's proposed legislation to ban smoking in shopping centres, restaurants and cafes across Victoria.
15 years ago
March 11, 2005
Geelong Mayor Shane Dowling is Werribee's next police chief.
He will become Werribee's district inspector by July after transferring to Geelong last month for a community policing role.
10 years ago
March 12, 2010
Witnesses have begun telling court their heart-rending stories of losing life savings in the $60 million collapse of a Geelong investment company.
One investor, whose name was suppressed under a court order, told Geelong Magistrates' Court this week she was forced to cancel surgery after failing to receive a return on her $185,000 investment.
5 years ago
March 13, 2015
TAC safety advocate Norm Robinson has lashed out at authorities for failing to curb the road toll on the anniversary of his son's death at Lovely Banks.
The Bannockburn man, who headed an emotional TAC TV campaign after son Luke's death in 2010, said too many traffic authorities and politicians were reluctant to take more-effective measures to reduce carnage on the roads.