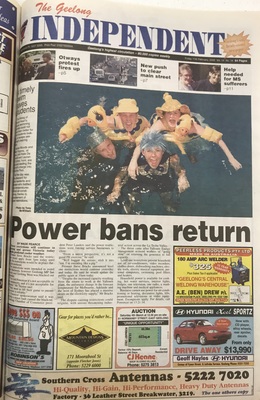 20 years ago
February 11, 2000
Power restrictions will continue in Geelong and across Victoria today despite predicted cooler weather. Premier Steve Bracks said the restrictions would apply from 1pm today until 7pm.
15 years ago
February 11, 2005
Funding for Geelong's bypass road hinges on a top-level showdown between Federal and State government transport ministers. State Transport Minister Peter Batchelor has requested the meeting with his federal counterpart, John Anderson, whose office was yesterday planning a date after next week's parliamentary hearing.
10 years ago
February 12, 2010
The region's country pubs are up in arms over "ridiculous" liquor licensing fee increases aimed at stopping alcohol-fuelled violence. Meredith Hotel's Caz Hearn was "shocked" and "outraged" when State Government hit her "little family-run hotel" with a $3000 bill, more than triple the previous licensing fee.
5 years ago
February 13, 2015
Doubt over WorkSafe's full relocation to Geelong has emerged after State Government failed to guarantee the transfer of all the agency's 550 positions. The Independent asked whether all 550 would be relocated but a spokesperson said: "The Government is committed to the relocation of WorkSafe to Geelong. There will be no job losses."