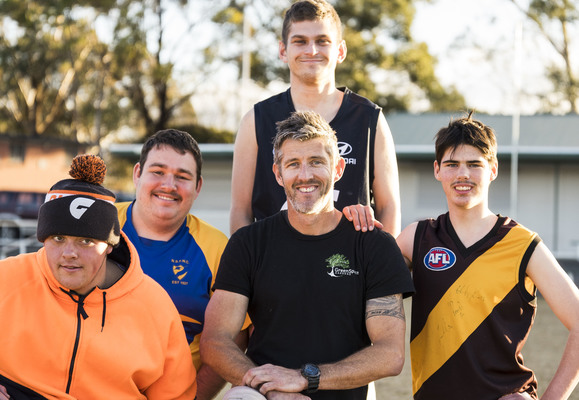 By Luke Voogt
Nothing beats helping all-abilities players kick goals on and off the footy field for Club Legend nominee Jai Smith.
"Just seeing the smiles on their faces and their parents' faces makes it all worth it," he told the Indy.
"Watching them get their first-ever kick in a game and high-fiving them is the most amazing thing I've ever done – and I get to do this every day."
The Charlemont landscaper became the first nominee in this year's Club Legend award for volunteering as head coach of Geelong Dragons Football Club's two all-abilities teams.
"I was very surprised and humbled," he said.
Jai began coaching the club in "enemy territory" at Bell Park last year following a local footy career at St Joseph's in the GFL.
"I'm long retired mate, I'm 43 now," he said.
"If I played now I'd probably break my neck."
One of the team's founders asked him to help out in 2018 over coffee, Jai said.
"Little did I know I was being interviewed for the head coach position."
But the 20 or so players in the inaugural team soon won Jai over.
"We all get along like a house on fire," he said.
"Anyone who comes in touch with them absolutely loves them."
Despite having no experience in the disability sector, the "amazing" players made coaching easy for Jai.
"And it's really opened my eyes to challenges these guys and girls face day in, day out," he said.
"They've taught me more about myself than I've learnt in the rest of my life."
The club has grown to 75 players under Jai and fields two sides in Victorian Football Integration Development Association (FIDA) Football League for players with intellectual disabilities.
"We're also a pretty bloody good team," he said.
Although he admitted getting all 75 players to listen at training could be "extremely entertaining".
"You've got some that scream and shout and others that are very quiet and brooding," he said.
His two sons also helped the club's younger players, he said.
Jai had enriched the lives of many young people previously unable to play footy, his nomination said.
The nomination was the first of many this week for the Viva Energy Club Legend awards, with $55,000 in prize money up for grabs.
The top male and female volunteers (over 35) will win $5000 each for themselves and their club. Nominations are open until midnight on 23 July.