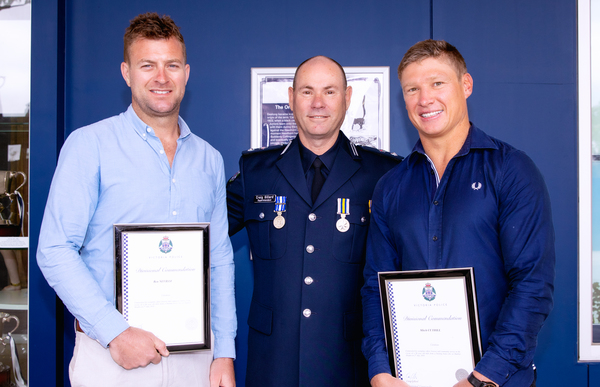 By Natalee Kerr
Two Geelong tradies who saved a 98-year-old man from a house fire have received bravery awards from Victoria Police this week.
Powercor workers Ben Neville, 35, and Mitch Cuthill, 33, were out on a "typical" job at Hamlyn Heights last July when they noticed flames at a nearby home.
Ben initially thought it was "just a backyard fire" but later sensed something was wrong.
"The fire had died down but there was smoke coming out of the roof," he told the Indy earlier this year.
After calling the fire brigade, neighbours alerted the tradesman that an elderly man could be inside.
"That's when we thought 'oh crap'," Ben said.
Braving the smoke, the duo smashed a window and forced open the front door before dragging the elderly man out to safety.
Mitch said the pair had no concerns about risking their own lives during the ordeal.
"As soon as we knew someone was in there, it sort of took over and we thought 'we better get him out'," he said.
Geelong Superintendent Craig Gillard said the pair's commendation was "well-deserved".
"These men happened to be working in the area at the time and demonstrated enormous initiative when they realised a nearby house was on fire," Supt Gillard said.
"Their heroic actions, without any regard for their own safety, clearly saved the life of this elderly man."
Fifty police officers and employees from the region received recognition for their service