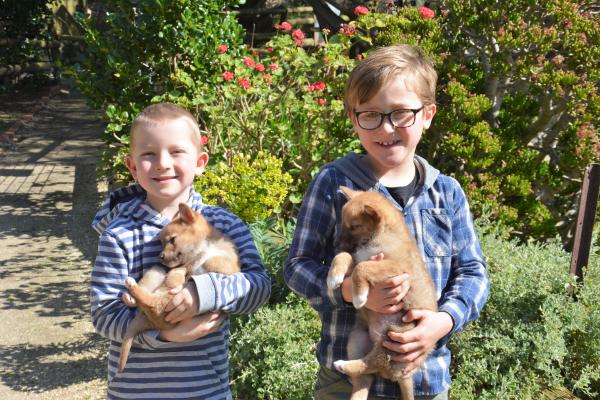 By Justin Flynn
A family of 20 dingoes has been rescued by Jirrahlinga Koala and Wildlife Sanctuary.
The dingoes were confiscated from NSW after living in "appalling conditions" according to Jirrahlinga co-founder Tehree Gordon.
However, the sanctuary would like your help to continue taking care of the native mammals.
"We looked at the finances and yes we can afford to feed [them] but I would like to see that they get even greater assistance, things like having them desexed and allowing them to go into other wildlife parks," Ms Gordon said.
"We want to continue to make sure they get proper veterinary care.
"They will go into other wildlife parks on a lease agreement, so that if anything happens and they don't want to keep them, they have to be returned to us and that would become their forever home."
Ms Gordon said releasing the dingoes into the wild would be a "death sentence" and that the risk of the dingoes ingesting the pesticide 1080 was too great.
"We might as well euthanise them," she said.
"People don't understand that it is against the law to take something that's been raised in captivity and released to the wild.
"You will never forget 1080 if you watch one dog die from it.
"It is the cruelest, most terrible thing. We're trying to get that stopped. Only Australia and New Zealand use it in the world."
Ms Gordon said confiscating the dingoes was an arduous task.
"We had to go through hoops to get them across the border," she said.
"I moved heaven and earth. We had to have work permits, we had to have travel permits, we had to have import permits…and we had to have people who had permission to cross the border.
"There was so much work put into it and I really appreciate everyone that came on board."
Ms Gordon said the dingoes were apprehensive about coming out of the enclosure when they first arrived at the Barwon Heads wildlife sanctuary.
"They were shellshocked," she said.
"It was happy and sad. We let them out and they sort of slunk out and they were walking on grass and thinking 'what's this?'.
"One of them laid down and then she rolled and then all these adult dingoes had gone from tiptoeing on grass to suddenly rolling in it.
"Then they all stood up and stretched and they all came together and nuzzled and wagged tails and one of them started to run and they ran and ran and ran until eventually they just lay down.
And the next day they hardly moved at all."
Ms Gordon is keen to get children involved in helping to care and save wildlife.
"Children are our wildlife future," she said.
"If we don't encourage them to love and care and respect then we will end up like everyone else.
"Years ago a Japanese school came here. The headmaster said 'the reason we want you to learn about Jirrahlinga and respect what they do is because sadly in our country we didn't act quickly enough and a lot of our wildlife became history and can never be replaced'.
"That was many years ago but those words burnt in my brain. That one person from another country respected what we do."
To help Jirrahlinga in its mission to provide continued care for the dingoes, go to fundraise.giveeasy.org/campaigns/in-safe-hands or contact the sanctuary directly to see what sponsoring a dingo pup involves. The sanctuary has a number of sponsorship options.