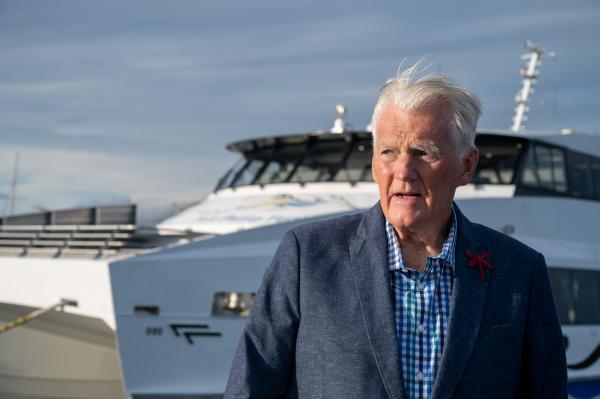 Order of Australia Medallist and Portarlington Business Development Association president John Rae embraced his new hometown wholeheartedly when he moved 20 years ago. He speaks to Luke Voogt about the 11-year grassroots campaign to get the Portarlington-Melbourne ferry sailing.
Tell us about you…
I grew up in Melbourne and left school at 14, beginning work as an office boy at hardware company McEwan's on Bourke Street. I spent most of my life working in sales and marketing for American-owned hardware corporations, and loved it.
I retired at 58, and my wife Elaine and I purchased a holiday house in Portarlington. We fell in love with the town and moved permanently 20 years ago.
We had three boys and five grandsons, and we desperately wanted a granddaughter. Families one and two were not interested in having any more children, but family three recently had two gorgeous girls, so now we've got granddaughters too.
How have you been involved with Portarlington Business Development Association?
We had a shop and were invited to join the association. Each monthly meeting would have at most 29 attendees, before I was invited to join the committee as president.
The new committee changed just about everything: our meetings became bigger and we now have 178 members. The association is the best and most flexible group of people I have ever been involved with – their effort and talent is amazing. We had 240 people in total attend our last meeting over two nights in May. The speaker was Murray Rance, from The Little Group, who presented how The Grand Hotel in Portarlington will look when completed in mid-November. All I can say is make a booking for December!
How did you secure the Portarlington-Melbourne ferry?
More than a decade ago, 200 people attended a Portarlington community meeting organised by Geelong council. We were split into groups and asked to identify what required fixing. Number one on the list was a ferry from Portarlington to Melbourne. The work begun but numbers fell away from as it appeared nothing was occurring. Geoff Henderson and I were the only remaining members after the first 12 months. We knew it would occur – what we didn't know was it would take 11 years.
The support we received from any group we asked was amazing, and Bellarine MP Lisa Neville was always there with us – she has a great work ethic and looks forward all the time. The magic day was when Paul Little and Murray Rance asked us if we could fill the ferry for two trips; we said yes.
During the first trip in 2016, I was one of about 400 people aboard, while another 121 stood on the pier waving us goodbye. We filled the next ferry too.
I've also been involved in getting a new supermarket, petrol station and primary school in Portarlington through local groups over the past 20 years.
What do you like to do locally?
Eastern Beach and Geelong Regional Library are my favourite places in Geelong. Each time I go to either, I say to myself, "I don't care how much these projects cost, they are brilliant."
On the Bellarine, Jack Rabbit Vineyard is stunning, and I love catching the ferry from Portarlington. Port a great place to live.