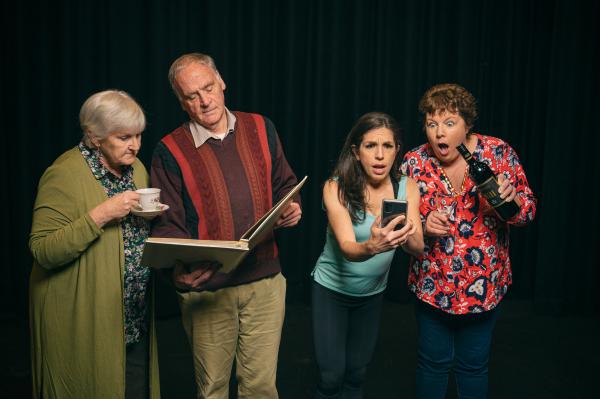 By Luke Voogt
At age 75, Jack Price is set to play his first major role in his onstage debut as a playwright, Oldie Locks, this month.
The Point Lonsdale actor-playwright was a late-comer to the theatre a few years ago after a seemingly odd request.
"A friend rang and she said, 'a friend of mine wants a man'," the retired flight engineer laughed.
"My reaction was, 'is she rich?'"
The friend soon clarified the request was for someone to play the supporting role of 'Mr Brownless' – no relation to the famous former Cat – in local play The Zipper.
"The only previous acting experience I had was in nativity plays in primary school," Price said.
"But once I got out there, and did it, I felt relaxed. I thought, 'this is great'."
After trying his hand at acting, Price decided to have a go at writing too.
On trip to New South Wales with a friend he met their family member, who was suffering dementia, which inspired his debut play.
"He was a very quiet fellow and an astute businessman," he said.
But Price's principal character, Bob, is completely different, despite suffering the same condition.
"The way I've written him, he's the life of the party," he said.
"He's a teaser and tells silly jokes.
"He's a real family man – he put his family ahead of his job, and he's just one of those likeable people.
"He's a lot like me – I don't take life and what's happening in the world too seriously. I can vote, that's all I can do."
The comedic tragedy seesaws from funny and absurd to sadder, more serious moments with Bob and his family.
Price was thrilled for the play to feature in the Potato Shed's upcoming Winter Solstice series.
"It's really exciting and it's giving me confidence to write more. It keeps me occupied, because I'm retired," he said.
"We've been doing rehearsals on Zoom [during the latest lockdown] – that's been difficult. But we've got three nights this week at the Potato Shed, so that will be good."
The series also includes another locally-written play, Introverts Outing, along with mulled wine, live music and a fire pit to escape winter's chill.
Whittington playwright Sindi Renea penned Introverts Outing when she returned to acting several years ago following a divorce, she explained.
A teacher in a drama course once told her she "had a really good grasp of dialogue", which later inspired her to begin writing plays too.
She came up with the idea for her latest play while moderating several social media groups.
"No one ever meets on these groups," Renea said.
"I remember trying to organise an event, and only me and another moderator showed up!
"I wanted to see what would happen if the group actually met."
Tensions flare when one group member's 'friends-with-benefits' relationship with another's fiancée emerges.
But, as Renea explains, the play is about how people sometimes judge others without knowing the full story.
"You don't know why that person is like that – so it's about looking a little bit deeper," she said.
"I'm hoping, even though the characters are a little bit far-fetched, that someone in the audience will go, 'I know someone like that!'"
The series is sold out for its opening night next Friday, June 18, with some tickets remaining for another two shows next Saturday, June 19.
But Theatre 3triple2 secretary Chris Reynolds said extra tickets would become available if regional Victorian COVID-19 restrictions ease further.
Details: geelongaustralia.com.au/potatoshed