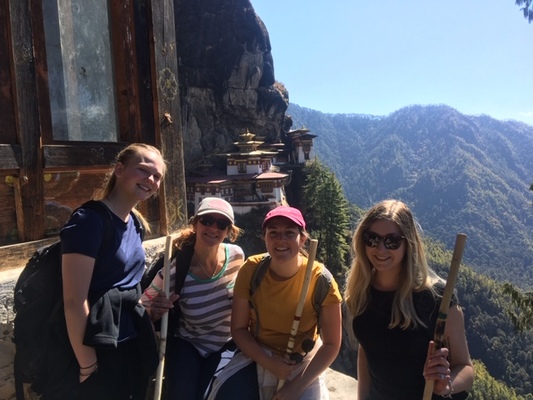 By Gill Cooper
A recent study trip to remote Bhutan and trekking in the Himalayas has given 21-year-old nursing student Becky Morris a clearer vision for her place in the world.
The Belmont resident has just returned with 14 other Deakin University students who studied the developing nation's health care system.
"Visiting Bhutan has been a massive eye-opener for me," Becky said. "It's given me a whole different stance on how I look at nursing.
"We were able to see all three levels of health care in Bhutan – basic, regional and tertiary – although their hospital facilities are very basic compared ours."
Becky said local nurses and doctors explained how they used both modern, western-style medicine as well as traditional medicine.
"It's taught me that with every person of every culture you treat, you must consider their beliefs and customs and how they view medicine," she said.
Becky travelled with fellow locals Katie Husson, 21, from Waurn Ponds and mature-aged student and mother-of-three Danni Smith from Barwon Heads.
They supported a preventative health clinic outside Tiger's Nest monastery, working in the clouds at 3120m measuring villagers' heights, weights and blood pressure with a local nurse.
"I won't ever forget that experience – language was our biggest barrier but they were so grateful to be helped," Becky said.
"This study trip has inspired me to go and work in a developing nation once I get some experience at home. Nursing is such a global profession."
Deakin's group of nursing students visited Bhutan under the New Colombo Plan funded by aged care provider Arcare to the tune of $100,000 a year.