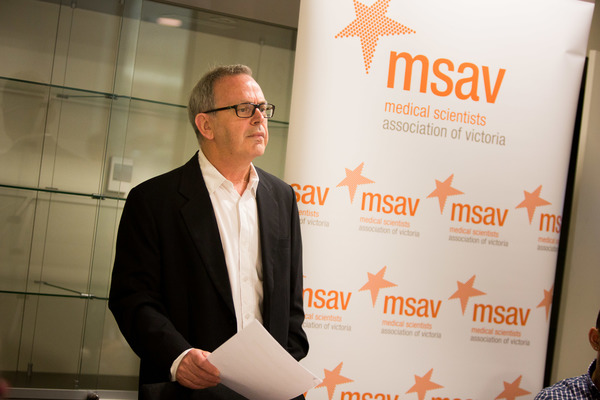 By Luke Voogt
Union officials are set to take industrial action amid fears several dozen Geelong pathology workers could lose their jobs in impending cuts.
Medical Scientists Association of Victoria secretary Paul Elliott threatened to take Australian Clinical Labs to the Fair Work Commission following a meeting with company management yesterday.
"We will write to management in the next 24 hours and outline the exact information that we want and raise a number of other points," Mr Elliott said.
If the company failed to meet the demands the union would make applications to Fair Work Commission to settle the dispute, he said.
Mr Elliott met with pathologists, technicians and other staff in another meeting yesterday.
"They're really distressed and they're really angry," he said.
"Members are fearful that there are going to be very large numbers of redundancies and that they won't be able to do their jobs effectively if the redundancies come into effect."
"They're really concerned of what that means for patient health and safety."
"A number of very experienced scientists feel that they're just about being pushed out of a job."
Employees reported already-low staffing levels, and dissatisfaction among Barwon Health clinicians with the company's pathology services and turnover times, according to Mr Elliott.
Australian Clinical Labs refused to detail the number of jobs it would cut in meetings with the association, Mr Elliott said.
"It beggars credibility.
"(The meetings have) been long and difficult. We were unable to reach any level of agreement with management."Mr Elliott had heard rumours the company would cut from a quarter to half of its Geelong workforce, he said.
"But management won't give us any idea of how accurate that is.
Mr Elliott described the cuts as a "desperate strategy" to increase profits.
"They're not making money at the moment – that's quite clear," he said.
Crescent Capital Partners, which owns Australian Clinical Labs, purchased St John of God Pathology in 2016.
Australian Clinical Labs stated online it would undertake a "reduction in some positions across laboratory departments and in some administrative teams."
An Australian Clinical Labs spokesperson refused to comment further, saying the company would not share further information publicly until it completes consultation with its employees.