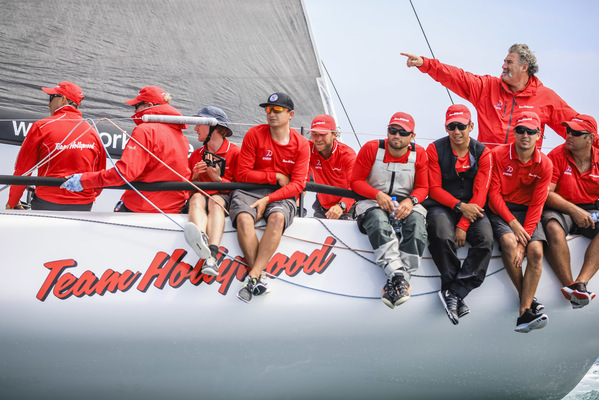 Entry deadline
Sailors are urged to book their places for Festival of Sails as fees for the Australia Day long weekend regatta rise $250 at midnight tonight.
Organisers at the Royal Geelong Yacht Club have so far accepted more than 200 entries across 17 categories including professional teams, weekend warrior and juniors.
Perch release
The odds of recreational anglers landing a fish other than bream and mulloway in the Barwon River have exploded after 45,000 estuary perch were released near Highton this week.
Victorian Fisheries Authority (VFA) CEO Travis Dowling said these fish will be of catchable size in three years and join 30,000 others that were stocked in December near Queens Park.
Resort 'waste'
The Andrews Government has been accused of wasting taxpayer funds supporting Ocean United Investments' $70 million five-star resort development in Apollo Bay.
Liberal MP Richard Riordan is seeking a review of the regional development minister's portfolio after planning minister Richard Wynne knocked back the project due to its "excessive size and scale".
New party
Moves are afoot to gain local support in Geelong to launch another new political outfit – The Citizen's Dividend Party (Australia) before the next Federal Election.
Geelong organiser Paul Ross is seeking 550 foundation members who are registered on the Australian electoral roll to sign up by 15 January 2019.
Glass treasures
Treasure hunters searched for glory and more than 100 locally-made glass art works as prizes during the launch of the 2019 Festival of Glass this week.
The tiny treasures are commissioned by local businesses. Drysdale and Clifton Springs Community Association is hosting an expo with 45 exhibitors, with demonstrations by renowned glass artists, and its annual Glass Art Awards on 17 February.
Fake $50s alert
A counterfeit $50 note with Chinese characters discovered by a Torquay café owner after a busy summer trading day has been referred to the Australian Federal Police.
Torquay police said fake notes were an ongoing issue across the Surf Coast and Geelong and urged people to check if $50 notes in their possession were genuine.
Images on-show
A public exhibition of 12 winning photographs from 700 entries used in the 2019 Geelong Calendar is on at the Geelong Library and Heritage Centre until 29 January.
Geelong Gallery director Jason Smith chose the winning cover image of Eastern Beach at sunset by Ash Hughes, who also won the community vote for February.
Healthier future
Construction and fit-out of the $33 million Barwon Health North facility in Norlane is due to finish mid year to provide improved access to health services for local families.
The building forms part of the North Arts, Recreation and Community Health and Wellbeing Hub next to Waterworld Aquatic Centre, Corio Library and Centenary Hall.