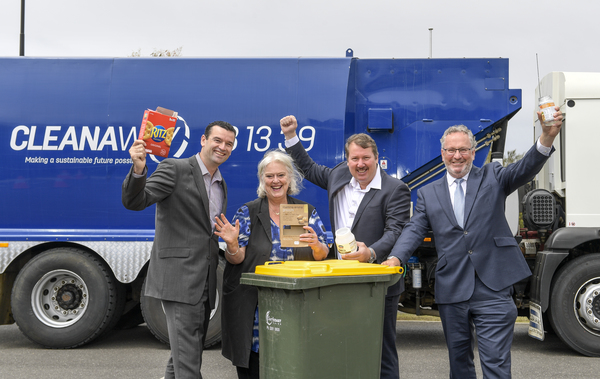 By Natalee Kerr
Geelong's kerbside recycling will return next week after council sent about 10,750 tonnes of reusable waste to landfill since July, costing ratepayers more than $1.2 million.
Australia's biggest waste management firm Cleanaway last Friday signed an agreement with City Hall to take over the processing of the region's kerbside recycling.
Councillor Ron Nelson welcomed the return of recycling, following contract negotiations with Cleanaway since October.
"Our community has been disappointed to see the contents of yellow bins being sent to landfill, so the return of our kerbside recycling service is very good news," Cr Nelson said.
"We're now asking for everyone's help to make it a success by getting back in the habit of sorting your recycling, and learning about the changes to what can and can't be put in your yellow bin."
Surf Coast and Golden Plains shires and the Borough of Queenscliffe also signed on with Cleanaway last week.
The region's previous waste provider SKM Recycling stopped accepting rubbish at its South Geelong depot late July, forcing councils to divert kerbside recycling to landfill.
SKM held a contract with City Hall to process 28,000 tonnes of recyclable material produced by greater Geelong each year before the shutdown.
Under the new agreement, Cleanaway will work with local councils to identify "local secondary markets" to maximise the sustainable re-use of recyclables.
Surf Coast Mayor Rose Hodge said the partnership with Cleanaway "meets the expectations of the community".
"I know our community will be so relieved that a solution has now been reached and that soon we'll be recovering materials again," Cr Hodge said.
"Getting our recyclables out of landfill and back into the recycling stream will help limit the new resources we draw on."
For more information about the changes to kerbside recycling in the G21 region visit www.thinkrecycle.com.au.