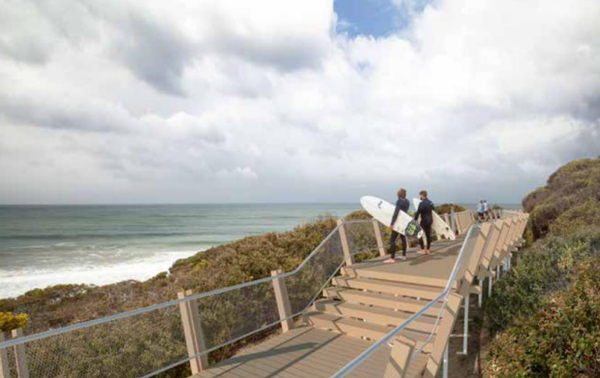 By Natalee Kerr
A proposed 60-metre-long viewing platform threatens to degrade the environment of Bells Beach, according to surfers.
Surf Coast's Surfrider Foundation said Surf Coast Shire's proposed design overlooking the Winkipop break failed to safeguard the iconic surfing reserve.
"As long as there are inadequate protections for Bells, the battle to prevent commercialisation and gentrification of our first surfing reserve will continue," the foundation posted on social media.
The draft platform design failed to take into account the needs of the landscape, the foundation said.
"This is a significant turnaround from the previous vision which was to minimise infrastructure and keep the reserve as natural as possible.
"One of the terrific things about surfing Winki is there are hardly any man-made structures visible from the water … this will change that completely."
The shire said the elevated timber walkway would replace an existing 30-year-old "cracked" concrete footpath along the Winkipop cliff line.
Survey results last year found that a "majority" supported construction of a permanent elevated structure on the site, the shire said,
The proposed infrastructure was "important to the ongoing viability" of the Rip Curl Pro and would be constructed in time for next year's event in April.
The design was lower than a temporary structure used when competition moved from the Bells break to Winkipop and would "complement" the natural landscape, the shire said.
The shire said it was reviewing feedback on the draft design, with councillors to vote on the plan at their meeting next month.