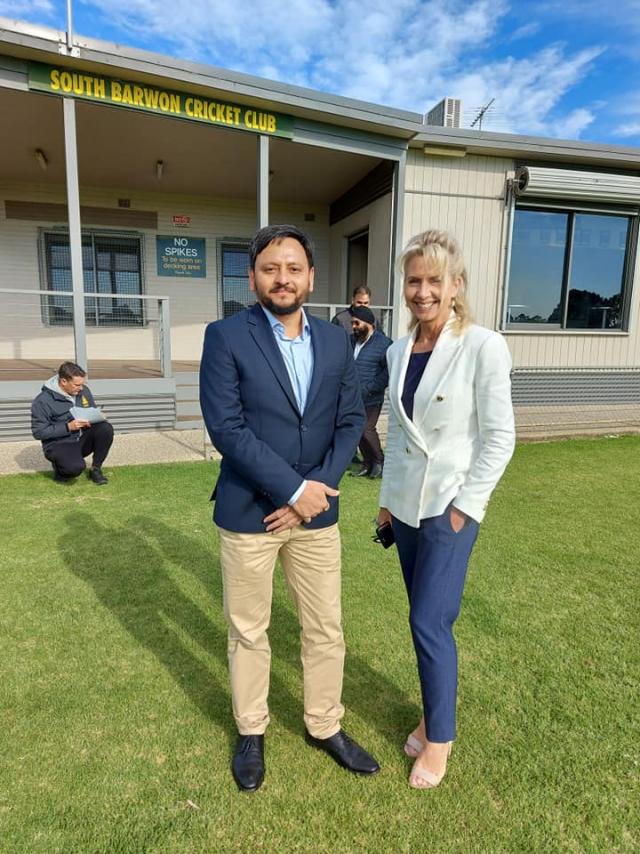 Ash Bolt
Leopold, Barwon Heads and South Barwon will see significant upgrades to their sporting infrastructure if the Liberal government is re-elected at the federal election this month.
Liberal Corangamite candidate Stephanie Asher said a re-elected government would provide $3.25 million to upgrade Leopold Memorial Reserve and $1.2 million to upgrade Barwon Heads' Howard Harmer Reserve.
South Barwon Recreation Reserve would also receive $1.6 million for upgrades.
Ms Asher said the funding for the Leopold Memorial Reserve would support an upgrade of the junior change rooms, toilet block facilities and the netball training spaces, as well as parking, accessibility and signage improvements.
"Leopold Memorial Reserve is a well utilised community space for local sport and passive recreation, but ageing facilities are in need of an upgrade to keep pace with local demand," she said.
"These upgrades will support the Leopold Lions Football Netball Club as well as the broader community.
"Leopold is a growing community which deserves safe and fit-for-purpose facilities and that's what my commitment will deliver.
"Sport and recreation are at the heart of our community, and this funding will support the increasing number of young Australians getting into sport, as well as their families."
Barwon Heads Football Netball Club will also benefit from upgrades to the facilities at Howard Hamer Reserve.
"The funding will support the extension of the existing club building which is too now small to cater for the club's needs. It will also be an important community asset," Ms Asher said.
"The number of teams has more than doubled in size since the club building was constructed in 2005 – increasing from 16 to 39 teams."
The project would be completed in partnership with Barwon Coast Committee of Management, Ms Asher said.
Liberal candidate for Corio Manish Patel said South Barwon Recreation Reserve upgrade would mean better local facilities for Geelong communities.
The funding would be used to expand the facilities, upgrade the clubroom to include four change rooms and install a new commercial kitchen to support the work of Indians for Geelong, an organisation which cares for the disadvantaged of Geelong.
"Indians for Geelong do amazing work for our local community and a new commercial kitchen, means more space and better facilities for them to continue providing that vital service to those in need," he said.
The South Barwon commitment matches a commitment made by Labor's Richard Marles and Libby Coker last month.