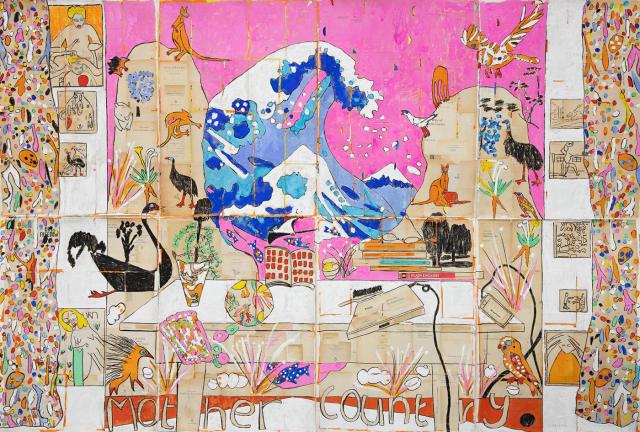 Ash Bolt
Geelong Gallery has announced 28 works by leading and emerging Australian artists have been shortlisted for the 2022 Geelong Contemporary Art Prize.
The $30,000 acquisitive art prize and biennial exhibition showcases the best of contemporary Australian painting practice.
For 2022, the shortlist for the prize includes 28 artworks by Clara Adolphs, Benjamin Armstrong, Darcey Bella Arnold, Chris Bond, Stephen Bram, Renee Cosgrave, Greg Creek, Sarah crowEST, Ann Debono, Lucy Fahey, Janet Forbes, Katherine Hattam, Naomi Hobson, Anna Hoyle, Dane Lovett, Fiona McMonagle, Jordan Marani, Sam Martin, Jennifer Mills, Tully Moore, Tom Polo, Victoria Reichelt, Steven Rendall, Brian Robinson, Huseyin Sami, Georgia Spain, Judith Van Heeren and Alice Wormald.
The works were selected from more than 400 entries from across the country and reflect the sophistication and diversity of Australian contemporary painting.
The shortlist includes a number of artists who will be exhibited for the first time in Geelong Gallery's acclaimed painting prize, alongside artists whose practices will be well-known to audiences.
The selection panel for the 2022 Geelong Contemporary Art Prize includes University of Melbourne senior academic programs curator, museums and collections Kyla McFarlane, McClelland Sculpture Park and Gallery director Lisa Byrne and Geelong Gallery senior curator Lisa Sullivan.
The exhibition of shortlisted works will run at Geelong Gallery from Saturday, June 25 to Sunday, September 11.
The winner of the 2022 Geelong Contemporary Art Prize will be announced on Friday, July 15.
The 2022 Geelong Contemporary Art Prize continues a long tradition of prize exhibitions staged by the Geelong Gallery.
From the late-1930s, the gallery has awarded acquisitive prizes variously for paintings, watercolours and prints, sponsored by a variety of individuals and corporate supporters.
In the mid-1990s, the Geelong Art Gallery Foundation established the Geelong Contemporary Art Prize with the aim of showcasing the work of contemporary Australian painters and enriching the gallery's collection of contemporary Australian art through the acquisition of a winning work.
Over its history, works by Diena Georgetti (2021), Andrew Browne (2018), Kate Beynon (2016), Rob McHaffie (2014), Paul Ryan (2012), Tim McMonagle (2010), Nadine Christensen (2008), Sam Leach (2006) and Juan Ford (2004) have been acquired through the nationally significant art prize.