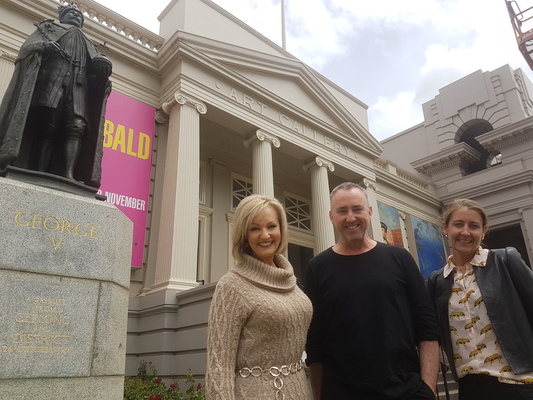 By Luke Voogt
Art has become the latest election battleground in Geelong, with the coalition yesterday announcing $500,000 to expand Geelong Gallery into City Hall.
Shadow arts minister Heidi Victoria yesterday announced the business case funding, alongside Geelong Liberal candidate Freya Fidge.
"Freya Fidge has been a fierce advocate for the Geelong Gallery," Ms Victoria said.
The announcement comes after independent candidate Darryn Lyons last month pledged $650,000 to support the expansion, which Ms Victoria said had "nothing to do" with her announcement.
She had been working with the gallery "for months" on the expansion, amid council plans to move its HQ from City Hall, she said.
"Our (pledge) is fully-costed and fully-funded… that's the difference there.
"I don't know of any independent that has the ear of the treasure."
But Ms Victoria anticipated Mr Lyons "would certainly give his blessing on this great project" if he won office and held a balance of power.
At the announcement Ms Fidge refused to discuss preference deals with Mr Lyons, a former Liberal Party member, until the ballot sheet came out today.
"That will be done between Darryn and our head office," Ms Victoria chimed in.
According to ALP polling Mr Lyons could win more than 10 per cent of the primary vote, meaning his preferences could decide the fate of the seat of Geelong.
Labor MP Christine Couzens, who won the seat by 6 per cent in 2014, on Wednesday pledged $127,000 for another art project, to depict Geelong's disabled residents.
Commuters are also likely benefit from the election with the coalition pledging 32-minute trains to Geelong.
"This is able to happen in the first term of a Matthew Guy-led government," Ms Victoria said yesterday.
But Labor described the plan as "impossible" and lacking in detail, proposing its own 45-minute plan and pledging 200 new car parks at North Shore Station.
The Liberals also announced they would almost double the size of Labor's new 700-bed prison at Lara, which Corrections Minister Gayle Tierney in turn described as a "con".
"They want to double the size of a prison that Labor is already building, but without any new funding," she said.