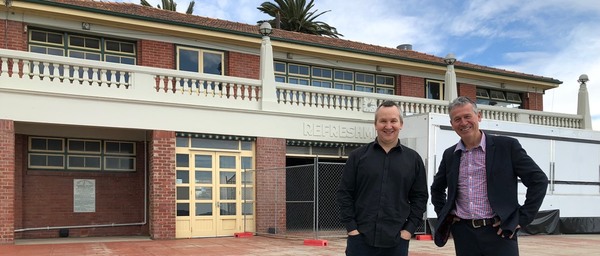 By Luke Voogt
Geelong's mayor has slammed Heritage Victoria for delaying the reopening of an iconic waterfront building closed for three years.
A "frustrated" Bruce Harwood urged Heritage Victoria to compromise on "minor renovations" after the agency refused to approve the latest plans for The Beach House.
"We've been working very hard on this and bending a long way," he said.
"There'll be some very minor renovations to get the building to an economically viable position."
In May council allocated $500,000 for repairs and disability access at The Beach House.
Council in August agreed to issue a 10-year in-principle lease to Mulberry Group, which operates a number of venues in Melbourne.
But Heritage Victoria has refused to approve the company's application for a pergola and relocation of kitchen to increase seating at The Beach House.
Mulberry Group must now renegotiate the plans with Heritage Victoria, which could delay the reopening until March.
The company had already made "very generous" concessions to Heritage Victoria, Cr Harwood revealed.
"I thought we were over the line," he said.
"It's give and take. If it's all one way it can't work."
Mulberry Group had an excellent record with heritage-listed buildings in Melbourne, Cr Harwood said.
"They're very sensitive to the heritage factors."
The in-principle lease required the building to be economically viable for Mulberry Group, Cr Harwood said.
He previously predicted that reopening the building would be a significant tourist drawcard.
The building closed without notice in April 2016 after lease negotiations between then-tenant Ross Adams and council failed.
Mulberry Group'sr Nathan Toleman announced in August he planned to bring "this building back to life" in time for Christmas.
Mr Toleman did not return the Indy's phone calls yesterday.
Heritage Victoria had not refused a permit and was working with Mulberry Group and council to addresses heritage impacts to Eastern Beach Bathing Complex, an agency spokesperson said.
Heritage Victoria declined to explain the impacts