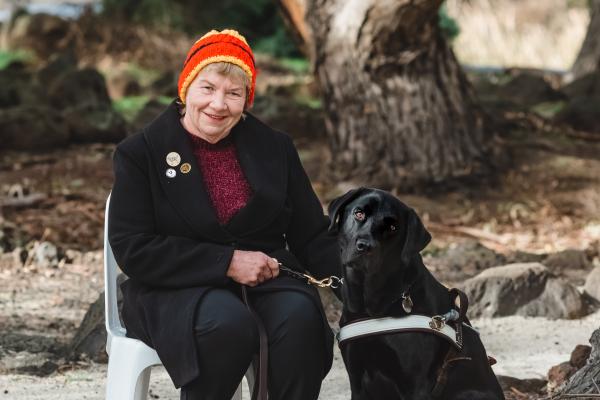 By Luke Voogt
Linda Blaik lost more than a "very good boy" when her guide dog suffered the same injury that his Collingwood Magpies namesake, Peter Daicos, endured in the 1980s.
She speaks to Luke Voogt about getting her "magnificent" Daicos back from surgery and regaining her independence.
Linda Blaik spends more time talking and being with her guide dog Daicos than her husband David.
"My husband's not very well these days," the Belmont grandmother said.
"I could arrange something to do with Dave and he might not be well enough to do it, but I've always got my Daic who will say, 'yep, let's go mum!'"
But for almost two months Linda lost that precious independence when Daicos suffered the same injury that his namesake, Collingwood Magpies great Peter Daicos, endured in the '80s.
"When he played I could still see a little bit," Linda remembered of the Collingwood forward pocket, who kicked 549 goals in 250 games.
"He was just so good at what he did. My Daicos is as mighty and marvellous as the man himself!"
Linda began following Collingwood when her family moved up to Burwood in the '70s.
"I started losing my sight when I was about seven," she said.
"I had two brothers already attending the blind school in Burwood. If you weren't a Collingwood supporter, you were sort of on the outer."
Her vision continued to deteriorate through the years due to cone-rod dystrophy, and at age 50 she was diagnosed with lupus.
She began taking medication for the autoimmune disease, which causes the body's immune system to attack its own tissues and organs.
"The medication destroyed what I had left of my retinas," she said.
But Linda takes blindness in her stride.
"I've had my nose flattened a few times," she laughed.
"What I had to get used to was the slow down mechanism.
"I only wish that I could see my kids and grandkids for a day.
"I have a vision in my head of what they look like, but I never know if my son's got a moustache, or one of the granddaughters might change their hair colour."
Six years ago, she met a black Labrador who changed her life.
"This dog was absolutely right for me from the moment I met him," she said.
"He doesn't forget anything, he knows where things are. He does everything that a totally blind person needs a guide dog to do.
"And he has enough confidence in himself to get me out of any predicament.
"He's very well behaved. But when he knows you, and likes you, he wants to have a play.
"He does it more with women. He likes the sheilas. He's got a few girlfriends he just can't help himself with.
"But the minute you put that harness over his head he's a totally different dog – people can't believe that instant switch – he's back, focused and knows what he's got to do."
Daicos, the first Victorian guide dog funded under the National Disability Insurance Scheme (NDIS), helped Linda shop, visit friends, watch footy and travel across Geelong and Melbourne to work as a recruiter.
They even met Peter Daicos himself in August 2017.
"He said 'I've never had a guide dog named after me'," Linda said.
"He gave us as much time as we wanted – he was such a genuine person. It was great to talk to him about the old days when he played, and his boys as well."
Daicos served so faithfully that Linda had no idea something was wrong last November.
"He was worked solid but he never complained," she said.
"His walk was a little bit slower going up hills but Daics and I aren't hill people – we go up a little bit slower.
"Guide dogs will work for you until the day they die – they want to work for the bond they have with you."
But other pedestrians noticed something was up.
"A sighted person would say, 'what's wrong with your dog's leg?'" Linda said.
"I said, 'which one', and they said, 'the right'."
One vet thought he might have arthritis, but another discovered something more serious.
"I said, 'what, the right?' And he said, 'no the left'," Linda said.
The vet discovered Daicos had injured his anterior cruciate ligament (ACL), just like his famous namesake, but in both legs.
In March, Daicos underwent surgery for both legs, followed by two months of rehabilitation with Guide Dogs Victoria and hydro treadmill therapy.
"I used up a good deal of my NDIS budget on support workers while he was away," Linda said.
To her delight Daicos returned in May, and Linda is gradually building up his workload and keeping a tight leash on his occasional playful "silliness" to prevent him reinjuring himself.
"I've just got to get him to a level where I can grab the harness and walk out the door without the second thought, 'is this too much for him'," she said.
On Monday Linda promoted good eye health at Wathaurong Aboriginal Co-operative's NAIDOC celebrations, where Daicos met plenty of adoring fans.
"He was very good, he did all the things he was supposed to do – just sit there and look nice," she laughed.
"The Collingwood Magpies fan site is very interested in how he's doing too."