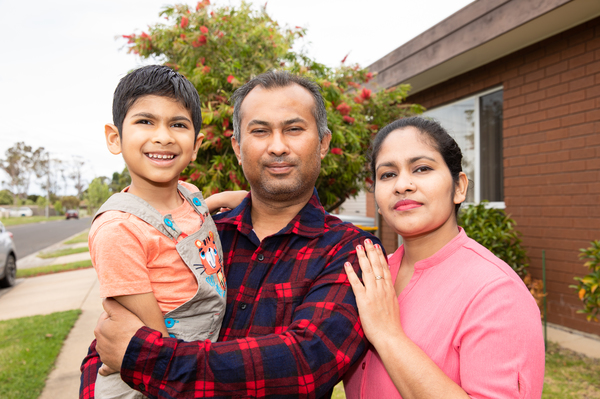 by Luke Voogt
Immigration Minister David Coleman is considering intervening in the case of a Geelong-based family facing deportation over their son's mild disability.
Adyan Bin Hasan, 5, faced deportation with his family after immigration officials rejected their application for skilled permanent residency in 2016, the Indy revealed last week.
The Indy understands the family can remain in Australia while their case is under active consideration by the minister.
Adyan's parents Mahedi Hasan Bhuiyan and Rebaka Sultana this August made a desperate application to Mr Coleman to intervene as their "final hope".
"For the sake of his development we just need the minister's kindness," Mrs Sultana told the Indy at the family's Corio home on Monday.
Dr Bhuiyan had feared for Adyan's future "every day" since the Department of Immigration and Border Protection rejected his initial application in 2016, he said.
"(For) a week I couldn't sleep because I was so scared and shocked – I didn't have any idea what to do."
Adyan, a small, shy but curious five-year-old watched the Indy's reporter intently over his mother's shoulder as his parents recounted their fight for residency.
Dr Bhuiyan migrated in 2011 to study engineering at Waurn Ponds, returning briefly to Bangladesh in 2012 to marry.
Mrs Sultana joined him in Geelong in early 2013 and on 26 December gave birth to Adyan.
Four months later specialists diagnosed Adyan with mild cerebral palsy, now primarily affecting his left hand, from a previously-undiagnosed stroke at birth.
Dr Bhuiyan applied for permanent skilled residency after finishing his PhD in March 2016 but the Medical Officer of the Commonwealth rejected the application due to Adyan's condition.
Dr Bhuiyan said he had paid for Adyan's treatment and never received welfare from Australia. He applied to the Administrative Appeals Tribunal soon after.
In May 2017 the family returned to Bangladesh after Dr Bhuiyan's father suffered a heart attack, he said.
Mrs Sultana worked as a senior medical officer in a hospital while Dr Bhuiyan worked at a university and enrolled Adyan at kindergarten.
But "superstitious" locals shunned Adyan and physio services were very poor in Bangladesh, they explained.
"I became very worried about my son," Mrs Sultana said.
The family returned to Australia in 2019 before the tribunal rejected their appeal in July.
But Adyan's condition had improved substantially since 2016 and he was quickly learning English during family trips to the library, Mrs Sultana said.
"He runs, plays football and climbs up stairs, just like any normal child."
Mrs Sultana is studying to be a GP, while Dr Bhuiyan works at a supermarket and a convenience store, and is confident he can get a university job after securing permanent residency.
A psychological assessment in June found Adyan had normal cognitive skills and his occupational therapist described his left hand function as improving.
Both parents were "extremely motivated" and "well-qualified" to find employment to fund ongoing therapy for Adyan in Australia, the psychologist wrote.
Adyan's kindergarten also wrote to Minister Coleman describing him as "delightful" and his family as "worthy contributors" that the community would be "deeply sorry to lose".
Dr Bhuiyan's supervisor at Deakin University, Professor Ian Chen, said he was "hardworking" and that he would happily work with him again.
Click here to support the family's petition for Adyan.