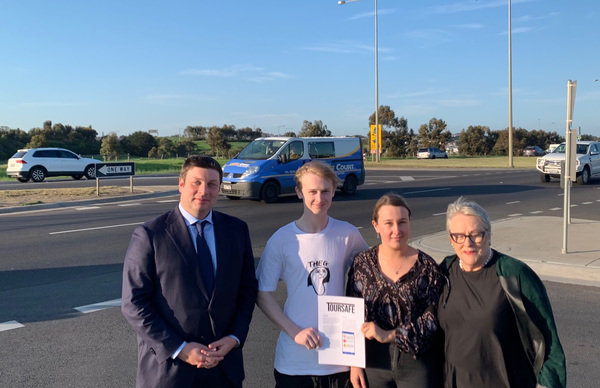 by Luke Voogt
A crash that left a Chinese man fighting for life and seriously injured four other tourists has prompted renewed calls for overseas driver tests.
Local opposition MP Bev McArthur urged State Government to introduce extra testing following the crash at Mount Moriac last Friday.
Mrs McArthur described the crash as "yet another example" of government's "negligence" in failing to ensure tourists were capable of driving in Victoria.
"Daniel Andrews and his road safety experts at the TAC have done little … to solve the international driver issue," she said.
International drivers "contributed" to 21 per cent of crashes involving ambulance call-outs along the Great Ocean Road, the Liberal Member for Western Victoria said.
"Yet the Premier suggested my call for proper testing measures to ensure tourists understood our road rules was 'culturally inappropriate'."
But a spokesperson for Road Safety Minister Jaala Pulford accused Mrs McArthur of running a scare campaign.
"Once again the Liberals are making things up and trying to scare people when it comes to international drivers," they said.
While about 20 per cent of crashes along the Great Ocean Road involved an overseas driver, suggesting they caused all 20 per cent was incorrect, the spokesperson said.
"The facts are that international drivers are not over-represented in crash statistics and these claims undermine the Great Ocean Road's reputation and our tourism industry."
Government also believes that introducing extra testing could infringe upon treaty obligations leading to restrictions on Australians who drive overseas.
During 2018/2019 State Government installed about 100 'drive left' signs on the Great Ocean Road and multi-lingual electric signs on tourist routes including Princes Hwy, the spokesperson said.
Last Friday a hire car travelling north on Cape Otway Rd crashed with a truck travelling west on Princes Hwy at an intersection, injuring the car's five Chinese occupants.
Paramedics airlifted a 58-year-old man and a 35-year-old man in a critical condition to The Alfred hospital.
The 58-year-old man remained in a critical condition while the 35-year-old had since stabilised, a hospital spokesperson said on Monday.
An air ambulance also took a 34-year-old woman to Royal Melbourne Hospital where she is in a serious but stable condition, a hospital spokesperson said.
Paramedics also took a six-year-old boy and 60-year-old woman to University Hospital Geelong in a serious condition with head injuries.
The boy was transferred to Royal Children's Hospital over the weekend before being discharged.
The woman was transferred to The Alfred over the weekend, according to Ambulance Victoria.