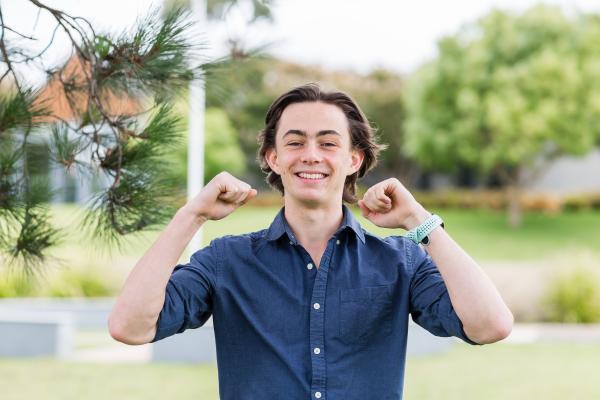 By Luke Voogt
Shaun Altmann hopes to design robots to make life easier for others after topping Geelong's ATAR scores amid a challenging 2020 for year 12 students.
The Christian College student scored an almost perfect 99.85 including the highest possible study score of 50 in software development.
"It was pretty surreal," the 17-year-old from Bannockburn told the Independent.
"There was a fair bit of shock and surprise. I was extremely happy that I was able to do so well.
"My parents said they would have been proud regardless, but it was still a really proud moment to be able to do that well."
Shaun hopes to study in the burgeoning field of mechatronics at either Deakin or Monash universities.
"They have a bigger focus on AI (artificial intelligence) in robotics whereas a lot of other unis look more at the manufacture of robots," he explained.
"I want to do the more humanoid robots."
His love of robotics grew from playing with Lego as a kid and later building basic machines and robots.
"I liked being able to make things, but more than that, make things that are able to do something," he said.
Shaun also credits various teachers for stoking his interest in the subject.
He wants to design robots that do tasks like housekeeping to "make life easy" for the able-bodied and disabled alike.
"Instead of unloading or loading the dishwater, for example, you'll have a humanoid robot that will do that for you."
Shaun acknowledged COVID-19 made 2020 more difficult for VCE students.
"It has been harder, in that we're not at school all the time – it's not as easy to talk to teachers," he said.
"I might have had it slightly better because I've had a lot of support from family and teachers.
"A lot of people said year 12 was going to the most memorable, difficult and enjoyable year. It definitely has been."
Shaun also scored in 49 in systems engineering (completed in year 11), 45 in English, 46 in both maths methods and specialist maths and 44 in physics.
"I've always liked maths and I'm lucky that I've been very decent at it."
He credits a simple philosophy for his success:
"I've done subjects I really liked, so I'm more incentivised to keep doing them."
Clonard College's Sidney Hoei, Kardinia International College's Zane Gates and The Geelong College's Danny Yang all placed just behind Shaun on 99.80.