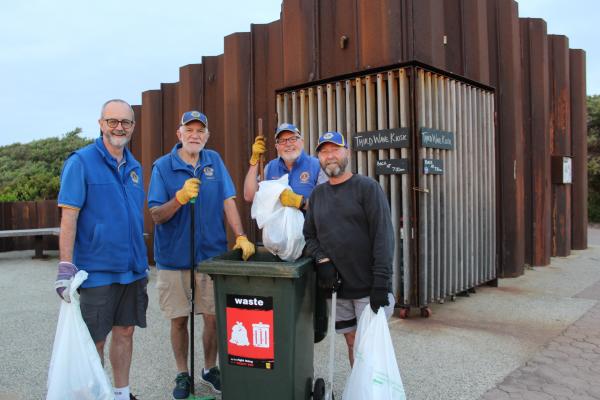 By Luke Voogt
Rubbish strewn on local beaches on New Year's Eve and during the holiday period has prompted calls from coastal residents for revellers and visitors to respect their surroundings.
Torquay Lions Club president Bill Ferguson was disappointed by the amount of broken glass as he and fellow members collected dozens of bags of rubbish along the local foreshore on January 1.
He said the amount of broken glass exceeded previous years.
"Glass is our biggest enemy. It is difficult to spot in grassy areas, tedious to remove and it always concerns us that we might miss some shards which can cause severe gashes to feet.
"It concerns us greatly that the careless actions of a few counter those who mainly did the right thing.
"We don't want visitors to Torquay to experience dirty and dangerous foreshore and beaches, which leaves a bad impression of our delightful beachfront and environs."
Indented Head resident Susan, who wished to withhold her last name, discovered plastic bags, discarded face masks and used nappies littering her local beach on Monday morning.
"Used nappies left on a beach is a new low," she said.
"It's absolutely disgraceful and disgusting. I removed them and the other rubbish and disposed of them correctly."
Susan said the town's beach was trashed on New Year's Eve and that she also discovered "heaps of rubbish" the Monday after Melbourne's 'ring of steel' came down last November.
Other Indented Head residents have raised fears of COVID-19 spreading due to campers and holidaymakers "overcrowding" the Bellarine Peninsula.
Luke Voogt