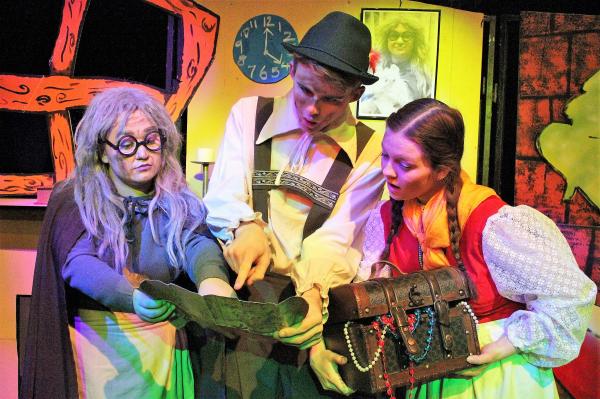 By Luke Voogt
Live theatre is set to make a long-anticipated return to the Potato Shed with a children's classic containing "a bit less cannibalism" than the original.
Resident company Theatre 3Triple2 will herald the start of the 2021 season next week with their take on classic Brothers Grimm tale, Hansel and Gretel.
Belmont actresses Karina Whytcross (Gretel) and Alysha Kitchingham (Hansel) were thrilled to return to the stage after a year-long break from acting due to COVID-19.
"I've been acting since I was nine and not being able to do it for the last year has been really stressful," Whytcross said.
"I don't know how to say it without sounding cheesy but there was a hole in my heart. A chunk of my life was just nothing.
"I didn't realise how much I'd missed it until I started rehearsing. Now I'm complete again."
The 19-year-old hairdresser is an avid children's performer and joined Theatre 3Triple2 last year.
"It's just magical how much the kids get into it," she said.
The show, running twice-daily next Tuesday to Friday, differs from the original "in the nicest way possible", according to Whytcross.
"There's a bit less cannibalism," she said.
Kitchingham agrees. "I think the witch still wants to eat us but it's a bit more subtle," she laughed.
"There's a song about making a soup out of Hansel. But they toned the story down so the kids don't run screaming out the door. It's more about the old witch just being mean.
"We clean her house and compliment her dress and she basically passes out and becomes a nice witch."
Kitchingham, 24, is ecstatic to return to the Potato Shed, where she last performed in a version of Pinocchio last January.
"That was the last hurrah before everything went haywire," she said.
"I'm so excited!"
She had been set to perform in productions of West Side Story and Legally Blonde in Geelong and Altona before COVID-19 decimated theatre worldwide.
She is studying musical theatre at the Australian Institute of Music and recently started work as a singing teacher.
Like Whytcross, she enjoys the energy of young audiences.
"They yell at you during the show, which is both great and terrible," she said.
"It's fun to ask them, 'what do you think we should do?' but it can be distracting. You need to know the story back to front."
Hansel and Gretel is the tale of two children who, abandoned deep in the woods by their father against his wishes, use their wits to avoid the fate bestowed upon them by their step-mother.
Chancing upon a gingerbread house, they are enticed inside by the resident witch, only to discover that what is nice on the outside is rotten within.
Theatre 3Triple2 has a long tradition of entertaining the young and young-at-heart with pantomimes and plays.
With limited tickets available due to restrictions, Theatre 3Triple2's Chris Reynolds urged parents to book early online.
"We can't guarantee at this stage that door sales will be available," he said.
"We missed putting shows on in 2020 and we want to bring that back in a big way for 2021 – the only way to do that is for people to support it."
Bookings: geelongaustralia.com.au/potatoshed