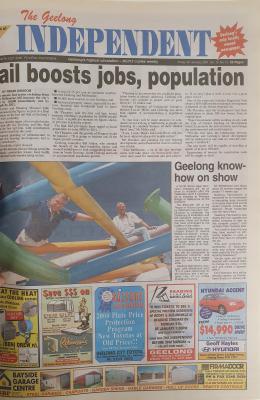 20 years ago
January 5, 2001
Forty-five minute fast trains rocketing from Geelong to Melbourne will increase the city's population by 10,000 immediately and by 40,000 people by 2021.
Acting Premier and Planning Minister John Thwaites announced the figures as part of a final feasibility study on the fast rail link at Geelong's Rippleside Jetty yesterday.
15 years ago
January 6, 2006
Geelong, still recovering from its new year hangover, is now bracing itself for a barrage of summer sport this month.
In one of the region's busiest periods, no less than seven regional, national or international competitions will be run and won, including three this weekend alone.
10 years ago
January 7, 2011
State government will hold talks "soon" with international air racing organisers as part of a push to bring the Red Bull race series to Geelong next year.
But the iconic air race that has wowed worldwide audiences cancelled its 2011 season last year amid safety concerns.
5 years ago
January 15, 2016
Anglesea traders have felt the heat this summer with a 30 to 40 per cent drop in sales due to Great Ocean Road bushfires, according to local businesses.
Business and Tourism Anglesea president Raylene Fordham said initial road closures after the fires had hurt local trade.