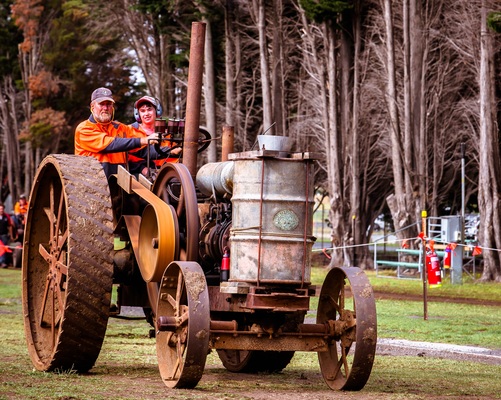 By Luke Voogt
Peter Herring's love for his son Jack drove him to join Geelong's band of tinkerers and vintage tractor enthusiasts 13 years ago.
Peter took then-6-year-old Jack, who has autistic traits and cannot speak, to a show and his son's eyes lit up when he saw the machinery.
"He likes the noise and watching things go around," the Newcomb local said.
"My interest basically revolves around his interest. It's something we can do together."
Originally Peter had wanted to buy a vintage tractor from his grandfather and uncle, who were both farmers.
"But a couple of collectors showed up, so I couldn't afford it," the 48-year-old said.
"So I went and bought a bit of old junk and fixed it up."
That "junk", a Jelbart Model 18 (named for its horsepower), has since become the pride of Peter's collection.
He will start up the almost century-old tractor for the Geelong Classic Truck and Machinery Show at Geelong Showgrounds this weekend.
The show features classic oil and steam engines, trucks, cars, motorbikes and the traditional vintage tractor pull.
Jack and Peter journey to other vintage machinery rallies across Victoria.
"A lot of places we go people know Jack and I'm just Jack's dad," Peter said.
"If he sees the truck in the yard with something in the back he'll be ready to go at 5am. He gets that excited he almost makes himself sick."
Over a dozen years Peter has built a collection of Australian-made machinery, mostly from Ballarat.
"It's a bit more than just the machinery – it's the history behind it."
He and Jack also attend regular meetings of Royal Geelong Agricultural and Pastoral Society's vintage machinery group.
"The social side is what (Jack) enjoys," Peter said.
"Old farmers from the regions, as they fall off their perch, donate their stuff to the Geelong society.
"So we're custodians of history I suppose – everything in the shed has some local history behind it."
The group has teenagers and members in their 90s who are "quite happy to help you out", Peter said.
"You'll find most of the people that are members in there are characters in one way or another – they're all a bit different, I think."
The "characters" include longtime member Graeme Tomkins, who "just does everything" mechanical, Peter said.
"Stuff happens when Graeme's there."
The Geelong Classic Truck and Machinery Show runs 9am to 5pm, Saturday and Sunday.