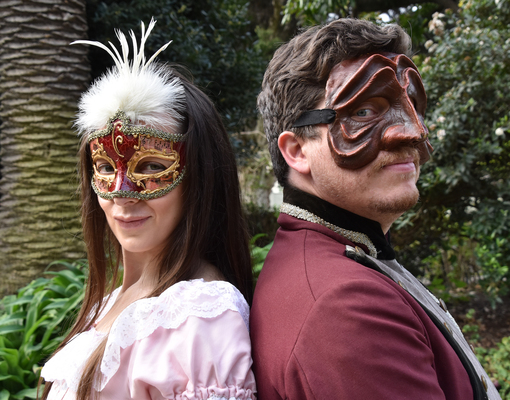 By Gill Cooper
One of Shakespeare's best romantic comedies, Much Ado About Nothing, returns to Geelong Botanic Gardens this weekend to entertain local audiences.
Cast and crew members from Ozact will showcase their costumes and acting skills in this majestic outdoor setting.
Shakespeare's strategic guide to the 'battle between the sexes' is loaded with comic incidents and witty insults to demonstrate that the road to 'true love' never does run smooth.
Much Ado About Nothing is full of suspense, high drama and comedy, featuring mismatched lovers, bumbling security guards and squabbling brothers.
The storyline follows young lovers Hero and Claudio, due to be married in one week.
They conspire to set a "lover's trap" for their friends Benedick, an arrogant confirmed bachelor, and Beatrice, his favourite sparring partner.
For 12 years Ozact has performed in the ornate fountains and statues, trees and ferny glades and sweeping lawns of Geelong Botanic Gardens.
The production is directed by Bruce Widdop and Matthew Young, with cast and crew including Andy Delves, Sorcha Breen, Michael Davidson, William Lark, Luke Ingham, Eleanor Ruth, and Lisa Widdop.
Raised at Clifton Springs and educated at Bellarine Secondary College, Stephanie van Rekum Ayres, 23, plays Margaret and the audience guide, narrating through rhyming couplets.
Stephanie said she was very excited to return to Geelong to perform.
"It will have been just over six years since I was performing in the area in school productions and music gigs," she said.
"The Geelong Botanic Gardens is where I first encountered Ozact as an audience member for Hamlet in 2014.
"Performing Much Ado About Nothing with Ozact this summer has been an enjoyable experience. I've had the opportunity to travel to places I've never been and explore beautiful locations.
"I look forward to finishing off our summer season at home and joining Ozact again for the autumn tour."
Founding director Bruce Widdop said he was happy with the company's progress over the past 23 years.
"It's great to see development in the actors – they are giving fantastic performances.
"Cast members perform to an outdoor audience where there is no stage or microphone – relying on voice projection in the real environment where the audience is up close."
Much Ado About Nothing runs from 4pm on Saturday and Sunday at Geelong Botanic Gardens.
Tickets are available at www.ozact.com.