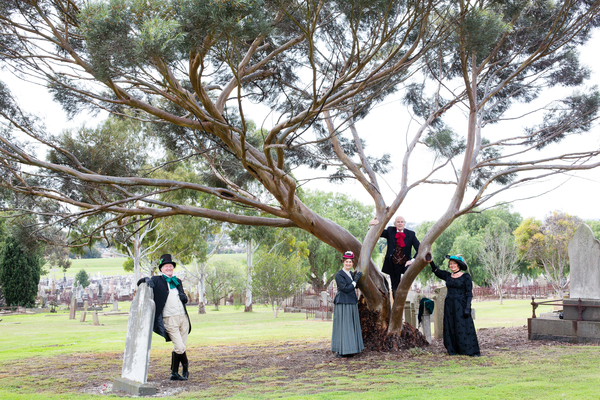 A graveyard tour bringing Geelong's most famous and important historic figures "back to life" is in the running for a state-wide award.
More than 1700 people have watched History Alive tours since they began in 2015, according to the show's researcher and writer Colin Mockett.
"That's an amazing number, considering that the tours only occur during some summer weekends," he said.
But despite becoming "a Geelong tourism fixture" the tours were never "meant for tourists", Colin said.
"They were, and still are, historical events organised by a not-for-profit organisation."
Local actors played legends residing in Geelong Eastern Cemetery and Queenscliff Cemetery in the shows, Colin explained.
Among the characters are Australian Rules football pioneer Charles Brownlow, hospital founder Elizabeth Austin, actor Francis Nesbitt, medical pioneer Mary De Garis and champion cricketer Bransby Cooper.
Also appearing are Geelong founder Foster Fyans, newspaper editor James Harrison, squatter Caroline Newcomb, thriller writer Ellen Davitt, John Batman's feisty wife Eliza and builders Howard Hitchcock, Godfrey Hirst and Francis Ormond.
The tours were the brainchild of Geelong Cemeteries Trust's Frank de Groot, who wanted to "de-mystify the cemetery experience" while exploring history, Colin said.
The 2019 season of History Alive kicks off at Queenscliff Cemetery on Sunday and at East Geelong Cemetery on 10 November.
The tour made the finals of the RACV Victorian Tourism Awards, with judges to announce winners at a gala dinner at Melbourne Exhibition Centre on 28 November.