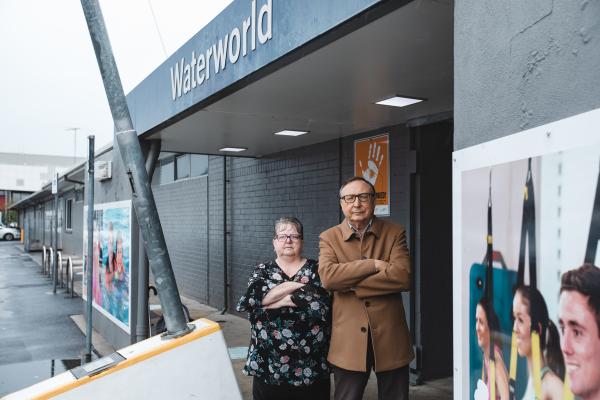 By Luke Voogt
Norlane residents have renewed their campaign to fund the "long-awaited" Northern Aquatic and Community Hub after neighbouring electorates received $43.5 million in government funding for similar projects.
"It's time to stand up and fight for a fair share for the north," said campaign organiser Sandra Anderson.
"You ask any resident here, of course they support it. We need this now."
"I'm just a grandmother that's lived in Norlane all my life and I'm passionate for anything we can get here in the north."
The renewed campaign comes after the federal and state governments contributed $20m and $13.5m respectively for the Surf Coast Shire's pool in Torquay.
Federal government has also committed $10 million for Geelong council's planned pool in Drysdale.
Both projects are in the marginal federal electorate of Corangamite, while the Torquay pool is also in the marginal state seat of South Barwon.
The Northern Aquatic and Community Hub has received $8.2 million in federal funding under the Local Roads and Community Infrastructure Program (LRCI).
Norlane is in the safe seats of Corio (federal) and Lara (state).
In total, Geelong council is seeking $20 million each from the state and federal governments for the $61.5 million project.
"Because we're in safe federal and state seats, it's often very hard to get funding for projects," Ms Anderson said.
"Locals love the pool but it's seen its better days – it's been there since 1965."
Victorian federal senator Sarah Henderson encouraged council to apply for funding for the hub under the upcoming phase two of the LRCI before July 31.
Ms Henderson said she was backing council's application for $10 million for the project under the Building Better Regions Fund.
"I believe it is critical that the state government provides $20 million of funding for the [project] in its upcoming budget," she said.
"That we have not seen a dollar from Labor is not good enough."
A state government spokesperson said this month's 2021-22 budget would deliver "positive outcomes for Geelong's northern suburbs".
"We know the Northern Aquatic and Community Hub is an important project for Geelong," the spokesperson said.
For details on the campaign search Fair Share 4 The North on Facebook.