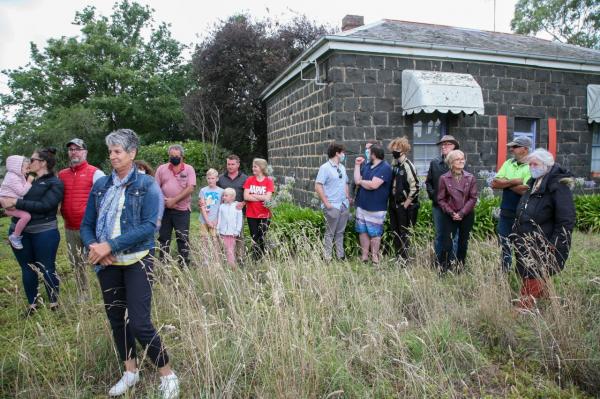 By Luke Voogt
More than 700 people have joined a campaign to stop a "bulldozer driving through" a 155-year-old bluestone cottage in Marshall, according to organisers.
Time is running out for the historic landmark with Major Road Projects Victoria (MRPV) to begin duplicating Barwon Heads Road in a few months.
The first stage of the duplication includes demolishing the McAteer cottage, which has stood at the intersection of Barwon Heads and Tannery roads since 1866.
"We certainly don't want to halt the much-needed duplication of the busy Barwon Heads Road," Bluestone Cottage Community Group president Virginia Johnson said.
"But we believe there's room for sensible compromise, and that MRPV and its minister should respect the large groundswell of supporters who want to save a unique remnant of Geelong's local heritage."
The group proposed relocating the cottage to nearby land and suggested a variety of community uses for it.
Three Geelong council heritage studies recognised the cottage as "significant".
But MRPV said the cottage is not included on the Victorian Heritage Register or any Greater Geelong Planning Scheme heritage overlay.
The authority asserts that the condition of cottage's roof, floor timbers and internal brickwork prevent a relocation that maintains its integrity.
MRPV program director Tim Price earlier this year said the authority would work with council to honour the cottage's history, which "may include reusing some of its materials," he said.
Campaign details: marshallbluestonecottage.org