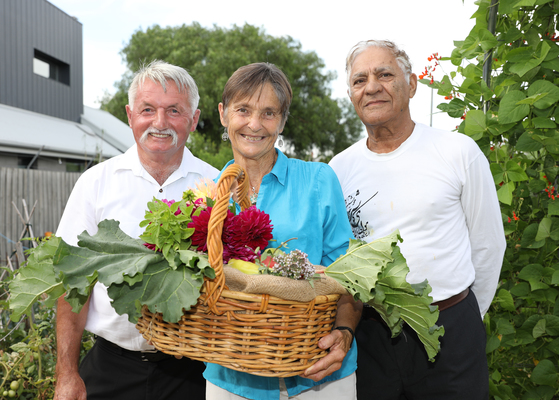 By Gill Cooper
Keen gardeners like Mike Ostojic, Rosemary Nugent and Roy Pakzamar are reaping the rewards of their efforts at Geelong West Community Garden this summer.
The garden was yielding a bountiful crop of fresh produce and social interaction, said nine-year member Rosemary.
"I've got a cottage garden at home and don't have enough room to grow vegies, so this is a great place to connect with the local community.
"At the moment tomatoes, beans, lettuce and rhubarb are all going well. We often share seedlings and excess produce with fellow members as well as family and friends."
Established in 1985, the community garden's members now tend 34 plots, some half-sized. They also share facilities such as equipment sheds, fruit trees, a herb garden, a pizza oven and a sheltered area for workshops and meetings.
Rosemary said members would conduct a working bee tomorrow to help maintain the gardens.
"It's a good chance to catch up with others and we can catch up of the different jobs that need doing: weeding, tidying up, mowing grass and general maintenance."
The garden, in Autumn St, will host an open day from 6pm to 7pm on 18 February.