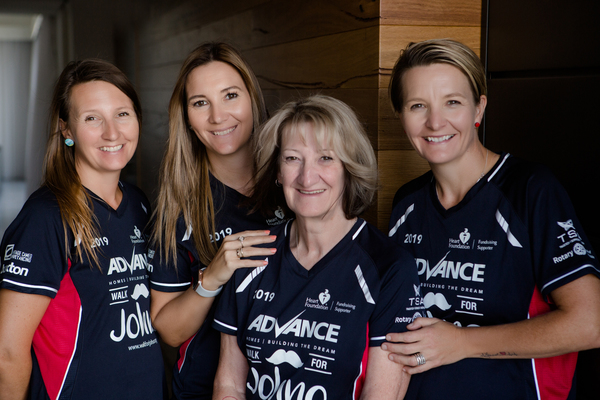 A Geelong family hopes its fourth and final Walk for Johno will be the biggest ever as raise money for heart research and education.
Corio's John 'Johno' Spencer died suddenly aged 63 from a heart attack four years ago, with his family establishing the walk in his memory.
Founder, organiser and daughter Bek Spencer said her dad's death shocked wife of 43 years Sue, their three daughters, eight grandchildren and many other family and friends.
But the family was determined to turn their heartbreak into something positive, Bek said.
"We were devastated by dad's death because we had no warning that anything was wrong.
"He loved walking, was very active and heavily involved in the local community. It was a total shock.
"He had no signs or symptoms so the family was given no warning."
Walk for Johno was a celebration of her father's life as well as a fundraiser for The Heart Foundation," Bek said.
"Many people have been impacted by heart disease, and by coming together we continually build support and awareness of this critical issue in our local community.
"We hope that by supporting The Heart Foundation we can help prevent this tragedy from happening to other families."
One Australian died of heart disease every 28 minutes and many more lived longer with chronic cardiac illness, said the foundation's Victoria chief, Kellie-Ann Jolly.
"Together with the vital support of people like Bek, her family and the local community, The Heart Foundation can continue its work funding research to prevent and treat heart disease."
The 2019 event will follow the Bellarine Rail Trail from Queenscliff to East Geelong's Eastern Hub beginning 7am on 16 March. Registration is free.
"The walk has four different options from 3km to 35km, so there's something for everyone and every fitness level," Bek said.
"The walk will end with a barbeque celebration at Eastern Hub from 2pm-5pm with presentations, raffle and kids' activities."
This year's Walk for Johno" would be the last because Bek was "juggling my time between raising two young children and teaching four days a week", she said.
"We've been overwhelmed by the ongoing generous support we've received and can't thank people enough for that."
Past walks since 2016 had been "a huge success", Bek said, with over 500 people walkers so far raising more than $73,000 for The Heart Foundation.
"We want to make this final walk the best one yet. I urge anyone touched by this disease to lend their support and join us for one last walk to raise funds and awareness to fight heart disease."
Bek said more information was available at walkforjohno.org and on the event's Facebook page.