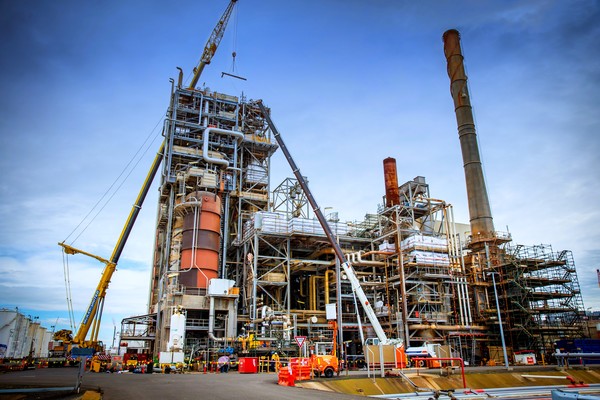 by Luke Voogt
Geelong's refinery and 700 jobs it supports are under threat from Victoria's "irresponsible" emissions targets, according to Federal Government.
Energy and Emissions Reductions Minister Angus Taylor warned Victoria Government's target of zero emissions by 2050 would hit "energy-intensive industries" like the refinery hardest.
"The Andrew's Labor Government's aggressive emissions target will slash wages, cost jobs, and wreck industry," he said.
State Government is also proposing an interim target of 45 to 60 per cent emissions reductions by 2030.
Mr Taylor instead urged State Government to adopt more "sensible" 26 per cent cuts in emissions like Western Australia.
The warning comes after the refinery's owner Viva Energy made a submission to State Government stating the targets could disadvantage the refinery.
More ambitious emissions reductions than other states or countries where fuel is imported from competitively disadvantaged Geelong refinery, a Viva spokespersons said.
The closure of domestic refineries would result no reduction in liquid fuel demand but simply shift production and emissions overseas with no impact on overall global emissions, they said.
The Geelong refinery supplied about 50 per cent of Victoria's and 10 per cent of Australia's fuel needs, the spokesperson said.
The refinery employed about 700 people and injected about $200 million into Geelong's economy, the spokesperson said.
Refineries, while emissions-intensive, were critical to Australia's fuel supply, self-sufficiency and national security, the spokesperson said.
"Australia is already a net importer of petroleum products so any marginal supply is met by imports."
The spokesperson acknowledged the need for climate change action but warned isolation action rather than pursuing national policies impacted negatively on local refineries.
Viva Energy is already battling rising energy costs while investing hundreds of millions of dollars in the refinery.
Viva Energy was currently investing in locally-produced ethanol fuel and bio diesel, and investigating the potential to develop hydrogen refuelling capability for fuel cell vehicles in Victoria, the spokesperson said.
The refinery has also been the site of industrial actions and safety scares in recent years.
Lara MP John Eren said State Government would consult widely with industry, unions, environmental organisations and the broader community before setting the interim targets.