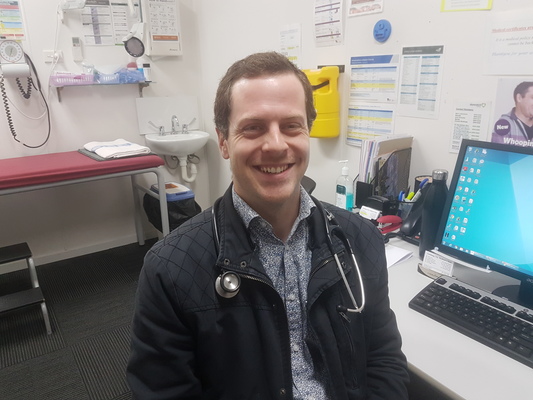 By Luke Voogt
Geelong-based doctor Ed Graetz has seen the difference a GP can make in a small town like Henty.
"Our GP used to travel and run clinics between a couple of small towns in our area," he said.
"Sadly he died in an accident on the commute (and) our town really struggled without a regular GP as a result."
The doctor treated a young Ed when he fell off the back of a ute and hit his head on concrete, and the man's charisma inspired him to study medicine.
"I really saw him as someone who worked hard and made a difference, and I valued and respected that," he said.
"He took an interest in other people's lives. I remember him having chats with mum beyond 'what's happening with Ed'.
"I think communication and charisma are as important in the workplace as intelligence and the ability to think critically."
Ed applied that philosophy to work in central Geelong after he finished study at Deakin University in 2014.
"It doesn't matter how busy you are, give people time and take an interest in who they are," he said
"It's nice hearing what's going well for people and what they're excited about."
The complexities of medicine in "well-equipped cities like Ballarat and Geelong" gave him an even deeper admiration and respect for rural doctors, he said.
He hopes to work in Ballarat in 2020 and may eventually practice in a small country town.
But without a Deakin University program giving a slight leg-up to rural applicants, Ed may have missed out on studying medicine altogether.
Deakin requires postgraduate medical students to have a certain grade point average (GPA) and to pass a Graduate Medical School Admission Test (GAMSAT) and an interview.
Country applicants, like Ed, receive a small bonus to address a "critical" shortage of rural doctors, according to Deakin.
Ed had a distinction average in his biomedicine degree but his GAMSAT was "nothing special", he said.
"If I didn't have those extra weighting points I may not have got in."
A Deakin study of 150 medical graduates found country students performed on par with their city counterparts despite entering the course with slightly lower grades.
"Which is the most important thing," said study co-author Karen D'Souza.
"We really don't want to be missing any of those students with a passion for regional health because their GPA is slightly lower. We know once they get in they're absolutely fine."
Students from country backgrounds were more likely to be rural doctors but were at a disadvantage in the competitive selection process, Dr D'Souza explained.
"These students can often be the first in their family to go to university. They may have to live out of home and work while completing their first degree," she said.
"They're also much more likely to be at financial disadvantage. So there are a number of factors that could contribute to that slightly lower GPA."