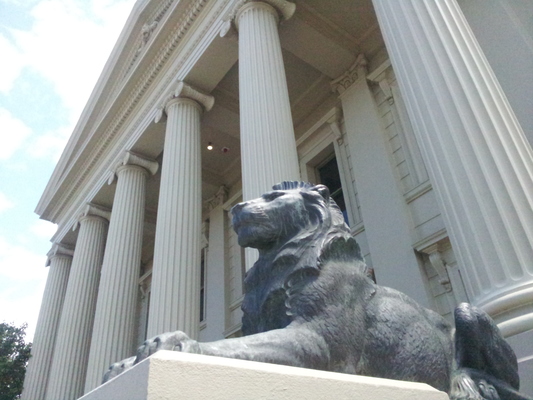 by Luke Voogt
Three contenders have emerged in the race to become Geelong's mayor with council set to elect their new leader on 15 October.
Deputy mayor Peter Murrihy and councillor Jim Mason declared their interest today, while Anthony Aitken has publicly backed Eddy Kontelj.
Cr Aitken said councillors and "external" people with "a strong interest in Geelong" had encouraged him and Cr Kontelj to run together.
"We've had other councillors discuss it as a prospect."
Cr Aitken planned to run for deputy mayor with Cr Kontelj as mayor, he said.
The dual ticket brings together two strange political bedfellows, with the Aitken family's union background and Cr Kontelj having links to the Liberal Party.
But the two had set aside "ideological differences" on issues such as Osborne House, CBD parking, hard waste and overturning a planned Lara goat farm, Cr Aitken said.
"We have a mutual respect for each other.
"Politics seems to be very destructive at the moment but I'm actually really encouraged by how Eddy and I have worked together for the benefit of the community.
"That's the sort of pragmatic political environment that the community wants."
Cr Aitken said he and Cr Kontelj would speak to their wives before asking fellow councillors for support.
Cr Aitken would not run as mayor if Cr Kontelj pulled out of the race, he said.
Deputy mayor Peter Murrihy also declared his interest today.
"It's a role that I'd be keen on doing but it's still early days," he said.
Councillor Jim Mason is also rumoured to have his eye on the mayorship but declined to confirm he would run.
"I would be one that would be available to serve if requested," he said.
"It would be an honour if my colleagues asked me to take on that role. But as far I'm concerned I'm happy to serve in whatever capacity."
Two-time mayoral candidate Stephanie Asher has also indicated she could run for the job.
Councillor Kylie Grzybek said she would love to see a female mayor but had yet to decide if she would run.
"We've had one female mayor in Geelong (since amalgamation in 1993). But I think that every councillor could do the job."
Councillor Ron Nelson ruled himself out as "too busy" for the position, while councillor Sarah Mansfield said she was "unlikely" to run while looking after her 18-month-old child.
Councillor Pat Murnane also ruled himself out while Mayor Bruce Harwood said it was "too early" to say if he would run again.
Council insiders have told the Indy Cr Kontelj would have "no time" to be mayor due to work commitments as Williams Adams Cat's Victorian managing director.
The Indy was unable to reach Cr Kontelj, who was at a company conference in Tasmania.
The Indy was also unable to reach councillors Trent Sullivan and Stephanie Asher for comment before deadline.