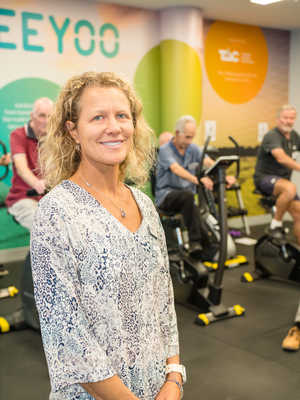 A new rehabilitation program is using exercise to restore the lives of Geelong cardiac patients, according to Barwon Health.
The program had helped patients recover from angina, heart attacks and cardiac stenting along with bypass and valve surgery, Barwon Health said.
Doctors had referred more than 170 patients to the eight-week "rolling" program since it began last year, with a 90 per cent completion rate.
The service aimed to prevent future cardiac events through weekly individualised exercise and education sessions, Barwon Health said.
The program was reviewed every weekly according to clients' feedback, said exercise physiologist Janelle Droomer.
"It adjusts to their exertion levels as we help challenge them to get them back to the exercise they were doing before their heart event," she explained.
A team of health professionals was running the first-of-its-kind program at Kardinia Park's Sunrise Centre, Ms Droomer said.
"Some people make huge lifestyle changes as a result of their heart event and the education they receive through the program," she said.
"That's really rewarding to know you've helped promote health and seen that improvement."
Barwon Health enjoyed a further boost to cardiac services this week as part of a $4.7 million funding boost for lifesaving equipment.
More than $3 million would help pay for a radiographic-fluoroscopic unit, a cardiac scanning system, two heart and lung units, a wireless X-ray machine and a catheterisation laboratory, the government said.
Cardiac catheterisation laboratories, or 'cath labs', are used for lifesaving heart procedures such as stenting, angiography, inserting pacemakers and implantable defibrillators.
Barwon Health also received $1.7 million to replace air handling units and patient lifts at University Hospital Geelong.
Health Minister Jenny Mikakos toured the hospital's imaging and cardiology departments as she revealed the funding on Wednesday.
"Our doctors and nurses do an amazing job providing the very best care for patients," Ms Mikakos said.
"We're supporting them with the cutting-edge equipment that they need to save more lives."
The funding was part of a $60 million State Government program to replace infrastructure in Victorian hospitals, Ms Mikakos said.
Geelong MP Christine Couzens welcomed the funding as she joined the minister on the hospital tout.
"We're giving Barwon Health cutting-edge, life-saving medical equipment to enable more Geelong patients to have the best possible health outcomes," Ms Couzens said.