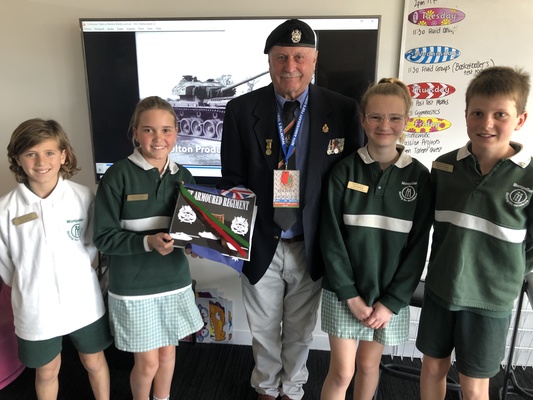 by Luke Voogt
A tank that survived a nuclear bomb and a tour of Vietnam took centre stage at Montpellier Primary School on Monday.
The Centurion's former driver Barry Hodges visited the school following an invite from grade 6 teacher Natasha Troop.
"The kids were mesmerised for the half hour he was talking – it was quite intriguing," she said.
She and students met the 72-year-old former trooper during a trip to the Australian War Memorial.
Now Barry is travelling across Victoria with a book about the tank and those who served in it.
"They were so grateful for me making the effort coming down," he said.
"They had lots and lots of questions."
In the '50s the tank survived a nuclear detonation 500m away at the British atomic testing site in South Australia.
The blast destroyed "anything external" and moved the 52-tonne tank 5m, Barry said.
"If a human had been inside the tank they would have been killed."
But the Army decontaminated the still-serviceable tank and Barry later drove it in stifling humidity in Vietnam, with the constant fear of driving over a landmine or being hit by a rocket-propelled grenade (RPG).
Often Viet Cong attacked, forcing Barry to close the hatch and drive blind, relying solely on his crew commander's directions.
"You're stuck down there all by yourself in a tank that was ageing with no air conditioning," he said.
"I never hit any really big mines. I had some small mines but nothing to do any damage to the tank."
Barry gave a copy of the book to the school to keep the tank's story alive.
"Once we're gone nobody's going to know anything about this," he said.