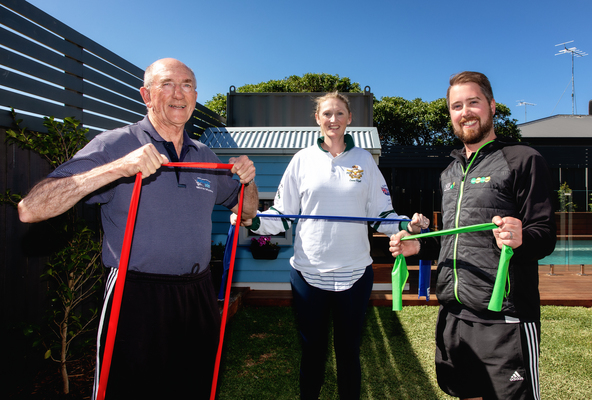 by Luke Voogt
Home exercise for Torquay veterans provides more than just fitness, according to a former servicewoman and elite netballer helping get the program off the ground.
Torquay RSL recently provided the service for an elderly veteran suffering social isolation, former Air Force corporal Katie Reaper explained.
"They benefitted not just from the physical side but bonding with the person visiting their house," she said.
"Towards the end of the program they were starting to feel more confident leaving home and connecting with other people on a daily basis."
Torquay RSL hopes to expand the program following a recent $12,000 grant from State Government.
The program could help people with significant disabilities or unable to leave home for reasons including post-traumatic stress disorder (PTSD), Katie said.
"That could be a 20-year-old through to a 90-year-old. (Leaving home) can be difficult for people when they've had a partner die or suffered trauma."
Other veterans struggled to stay fit after leaving the Australian Defence Force (ADF) for a less physically-demanding job, Katie explained.
Katie joined the Air Force straight after school and served seven years, including four months in Australia's first contingent in the Iraq invasion during 2003.
She has also played State League netball and for ADF's national side.
The 37-year-old moved to Torquay with her husband and daughter in 2016 for a management job with Netball Victoria.
"I walked into the RSL one day and it just felt like being at home because you meet like-minded people," she said.
"They were kind of blown away with, 'hey there's a young mid-30s female here.' I've got a soft spot for older people so I ended up just helping out."