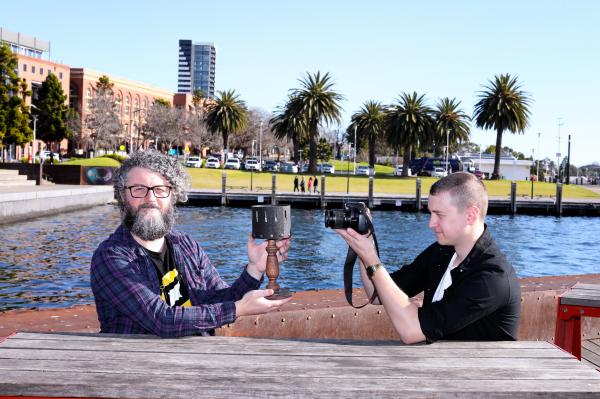 By Luke Voogt
A drive for a Geelong waterfront film festival has launched in a bid to put the international spotlight on local directors, actors and producers.
"For [filmmakers] working in the region, that would be huge," North Geelong animator Leigh Ryan told the Independent.
A local festival would give independent filmmakers opportunities to make important connections within the industry amid the "beautiful scenery of the waterfront", Mr Ryan said.
The father-of-two is a co-founder of Pillowfort Creative, a Geelong-based animation studio that recently featured a short film in Times Square, New York City.
"I don't think people are aware of how many filmmakers there actually are in Geelong," the 40-year-old said.
"It's exciting to think there might be a bigger future for this type of work in the region."
Geelong's affair with the silver screen began with 1959 with sci fi flick On The Beach, featuring scenes filmed in Corio's oil refinery.
Perhaps the region's most famous appearance was when a young Mel Gibson roared around the You Yangs in a black Ford Falcon GT for cult film Mad Max in 1979.
Ghost Rider, starring Nicholas Cage, and The Dressmaker, starring Kate Winslet, were also shot in the region.
More recently, Miranda Nation's film Undertow and six-part TV series Tomorrow When The War Began, based on the novels by John Marsden, included scenes in or around Geelong.
But Geelong needs more producers "knocking on our door" according the businesses and volunteers behind the Geelong Waterfront Film project.
Local businessman Patrick Rowan initiated the project, which includes plans for a local film competition and the establishment of the Waterfront Film Foundation.
Australia's Register of Cultural Organisations recently approved the foundation to accept donations, Mr Rowan explained.
"It recognises the project is a worthwhile cause [that] aims to put film-making in Geelong on the agenda," he said.
"One of the things we have found is producers scouting our region often approach us for local financial assistance.
"When sufficiently-funded, grants through the Waterfront Film Foundation will attract industry participants to Geelong."
A film festival and the foundation would help provide employment for people in the industry, with flow-on effects for local economy, Mr Rowan said.
He called for local film enthusiasts to become a 'Friend of Geelong Waterfront Film' for a one-off $20 donation.
More information: www.geelongwaterfrontfilm.com.au.