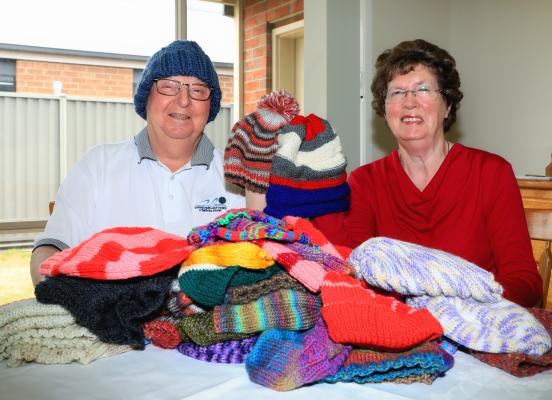 By Luke Voogt
A group of Geelong women have provided some woolly winter warmth for local cancer patients in recognition of Andrew Love Cancer Centre.
Lara's Janice Binns began the beanie-knitting drive after experiencing the centre's "wonderful" work firsthand.
Her husband Arthur goes into Andrew Love for six-monthly check-ups after having prostate cancer surgery in 2002.
"It's a life-saver, purely and simply," the 74-year-old said.
"The staff couldn't be nicer. They're all very chatty and very helpful – we can't fault them at all.
"I was just thinking of something to do while we were all stuck at home during lockdown – and to help other people, of course."
Together the women at Soroptimist International Geelong donated more than 40 beanies this week for patients at the centre.
Fellow Soroptimist Rita Jenkins had been "like a machine" knitting about 20 beanies, Janice said.
Rita herself is no stranger to the work of Andrew Love. Her husband Robert spent six weeks in palliative care after chemotherapy in 2015.
"He was a very, very ill gentleman – to the point where we were planning [his funeral]," she said.
"He couldn't eat, so he had a peg in him and I had to feed him through a tube."
But the centre modified Robert's medication and his treatment to radiation therapy, which helped him recover, and he is now approaching five years in remission.
"Every time I'm looking at him, I'm thinking, 'how did that happen?'" Rita said.
"They treated Robert wonderfully. We're so lucky to have a centre like Andrew Love down in Geelong."
Luke Voogt