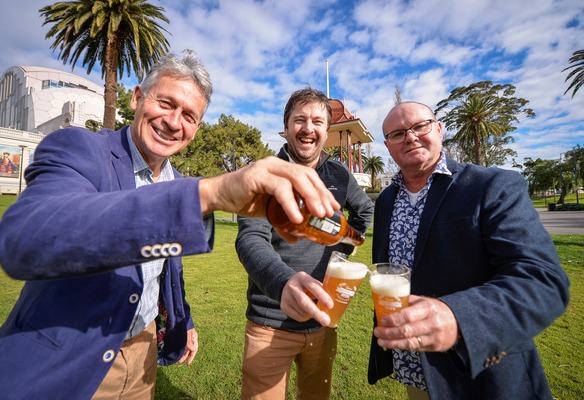 By Justin Flynn
Organisers hope moving to central Geelong will tap more patrons for the city's Great Australian Beer Festival.
Next year's event would move to Johnston Park after seven years at Geelong Racecourse, they announced last week.
The park's proximity to adjacent Geelong Railway Station and city amenities influenced the move, said festival director Kieran Blood
"We've got a growing market from outside the Geelong, so (Johnstone Park) makes it easier for people coming from Melbourne.
"Because we run it from 1pm to 8pm, people tend to go out for a bite to eat at a pub or restaurant afterwards. It's a short walk into town or the waterfront."
Mr Blood said locals comprised 73 per cent of the first festival's crowd but only 45 per cent last year, indicating patrons were prepared to travel from outside the region.
The average age at the festival was around 35, he said.
Previous festivals used shuttle buses to ferry patrons between the racecourse and South Geelong Railway Station.
"We loved the racecourse," Mr Blood said, "but it's just an extra step that makes it a bit more difficult.
"Being right next to the Geelong station just makes it easier."
Mr Blood expected minimal demand for parking at the Johnstone Park event.
"Last year we had 110 cars parked at the racecourse," he said.
"Not many people drive. It's a responsible-drinking event, so we just wanted to make it easier for everyone."