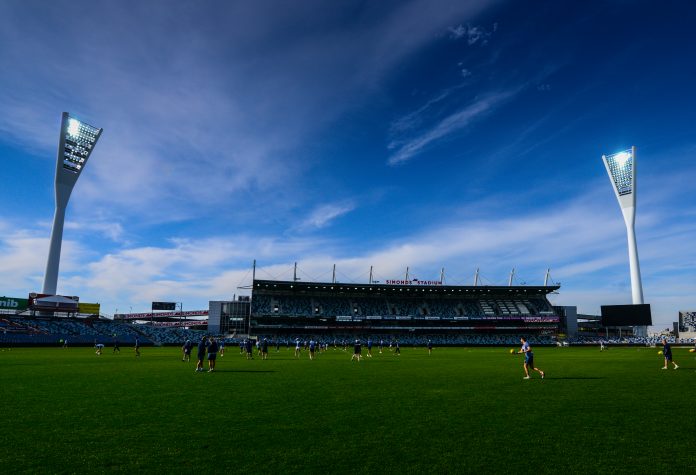 By JOHN VAN KLAVEREN
AFTER racking up eight wins in nine games during a tough opening to the season, Geelong is well into its player management phase, Cats coach Chris Scott admits.
Skipper Joel Selwood was subbed out during last weekend's 48-point win over Port Adelaide as part of the player management strategy rather than as a result of a knock he received to an elbow, the coach revealed this week.
"We're comfortable with that decision. He's feeling better because of it and he will play this week," Scott declared.
Forward and part-time defender James Podsiadly looks set for management down time this week, struggling with a knee injury from last Saturday's game.
"Podsiadly has a bit of a sore knee that we'll have to have a good hard think about. If there's any concern that could be something that might linger then we won't play him," Scott said.
"We haven't made that decision yet but it's very much on the cards."
But the Cats have a more-than-ready-made replacement in ruckman-forward Nathan Vardy, who is finally back in the AFL mix.
Scott said Vardy's return had gone to plan including an extended run in the VFL.
"We'd strongly consider bringing him in either this week or the following week. It would be highly unlikely if he didn't play AFL footy before the bye.
"Nathan has been first-class with his rehabilitation and played VFL really well, so we have the utmost confidence that when he comes in he'll play very good AFL football as opposed to just being a bit-part player."
Scott said Vardy would rucking as well as playing forward.
"He's done enough ruckwork at VFL level to contribute there as well," he said.
"I'd be surprised if we take him in as the number one ruckman and ask him to shoulder most of the load. He'll have some help if he does do some ruckwork but it's nice to have the luxury knowing he can play as a genuine forward, too."
Scott said his players were "genuinely excited" to be part of the historic first game under lights at Simonds Stadium against Gary Ablett's Gold Coast Suns on Saturday night.
"It's an exciting time for the club and town. It adds another dimension to footy in Geelong and in some ways we're moving into a new era.
"It's nice to be part of a little bit of history. It's great for the footy club and even better for the people of Geelong.
"Geelong has been starved of the opportunities the big cities have had for a while and I think it's a welcome change and addition to the footy community.
"We've played at the ground under construction for a while, so the atmosphere is going to be so much better than it has been for the last 18 months.
"Even training with the new stand up and the lights up adds a slightly different dimension to it.
"All the players are looking forward to it and falling over themselves to get selected in our 22 this week."
But Scott said the game had to be taken "in context of our wider season".
"It's important we keep playing well and keep trying to improve our game. We didn't look at the draw and say the second half was massively easier that the first half."
Scott said the bye presented an opportunity to fine-tune the workloads of individual players, with some stepping up training while others focused on rejuvenation.