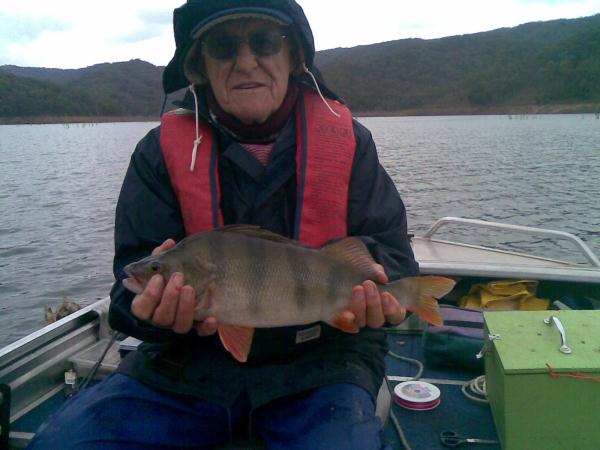 By BRIAN LONG
ANGLERS reported some excellent mixed bags over the past week.
Surf anglers found protection from big swells at Lorne's Loutitt Bay where Paul Welsh caught many salmon around 800g on lure along with three of about 1.5kg.
I fished the same location on Sunday's high tide, taking a fish a cast until the tide began dropping.
Lorne Pier also hosted reasonable numbers of salmon, although the local seal has been driving the fish away on many days.
Fairhaven and Eastern View produced salmon when the water was clear.
The Barwon River estuary was consistent for salmon, trevally, mullet, bream and small mulloway. Soft plastics anglers caught the trevally on Turtleback worms, while bait anglers had luck on prawn and pippies and fresh baits such as sandworm, bass yabby and shrimp.
Queenscliff's cut also yielded plenty of trevally. High tides were best, with plastics anglers favouring worm patterns and bait enthusiasts successful on pieces of pilchard fillet.
Squid remained present in respectable numbers along the inshore grass beds between Queenscliff and Hermsley. Small natural coloured jigs performed best, with the evenings and after dark hosting most of the action.
Anglers reported variable results on whiting along the peninsula. Some of the best captures were on the spoil grounds off Leopold where bag-limit captures of fish averaging 33cm were common.
Eight-year-old Aviyah Trainor fished with his dad in Corio Bay, with the pair bagging out and the youngster landing the biggest whiting at 43cm.
Stingaree Bay rewarded patience with variety. Paul Jeffries caught flathead, salmon, snapper, ling and whiting on the evening high tides.
Soft plastics anglers caught snapper over 2kg while fishing Geelong's waterfront after dark soft. Gulp four-inch minnows accounted for many fish.
Tye Main fished North Shore rocks after dark on Monday for a snapper of 3.1kg on a fresh squid head. Tye reported missing two other fish when he couldn't get to his rod quick enough.
Small mulloway were taken in Corio Bay's inner-harbour over the past month but Garry Holmes upped the ante with a beauty of 7.3kg this week from the shore at Bird Rock.
In the freshwater scene, Moorabool Reservoir was the surprise packet with brown trout to over 2.5kg landed. Most fish were half this size, while redfin better than 1kg were also caught.
Hepburn Lagoon produced browns close to 3kg.
Shallow-running lures with plenty of weight were required, with tiger minnows in the brown and rainbow patterns successful.
Newlyn Reservoir remained extremely low but productive for quality trout. Norm Worth fished a brown nymph fly this week for a brown of 2.3kg and lost another he estimated at better than 3kg.
Many anglers fished Wurdee Boluc Reservoir, with the numbers of lures cast almost guaranteeing results. Redfin to 1.5kg were taken but most of the bigger specimens were closer to 1kg, while trout to just over 2kg were also landed.
Greg Stevens fished West Barwon Reservoir, returning with two brown trout of 1.6kg. His Daiwa Double Clutch in the gold colour worked a treat but an angler nearby caught two trout on a Rapala Finesse Minnow in the rainbow pattern.
Dom De Rosa fished the Barwon River at Fyans Park after dark for a nice bag of eels last weekend. Dom used worms under a small float in close to the weed beds, also landing two carp around 4kg each.
Brian McConnell reported that 12 Bendigo Legions Club members travelled to Lake Eildon where they caught trout. However, Leigh Williams bag of 52 redfin was outstanding, with the best over 1kg.
Even more amazing was Leigh's stand-out bait – prawns from the local deli.
This weekend's best options should include Moorabool Reservoir for trout on lures such as tiger minnows or gold-coloured Tassie Devils worked in reverse to keep them diving too deep.
Saltwater anglers should try the surf for salmon in clean water between Fairhaven and Apollo Bay.
Send reports and photos to info@raylongtackle.com.au or visit Brian at Ray Long's Fishing World, 105 Shannon Ave, Manifold Heights.