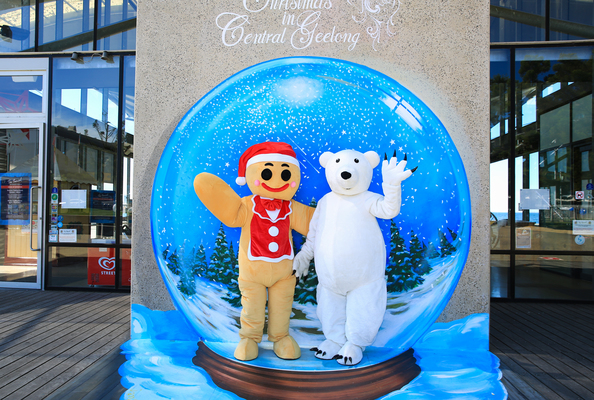 By Patrick Laverick
Here comes Santa Claus – Geelong's waterfront has turned on the festive spirit with a giant interactive 3D snow globe painted out the front of the Carousel.
Santa's little helpers were on show to launch the painting this week, with Central Geelong Marketing's elves showing how everyone can become part of the picture.
Artist Scott Jensen prepared the striking image as one of five for Central Geelong Christmas Trail. More of his work will appear around the city area over the next few weeks.
The 3D artwork joins an augmented reality experience of virtual artwork throughout central Geelong.
The Christmas trail will feature 28 different activities throughout the season.
Geelong Gallery has joined the fun, inviting children to get creative with their own Christmas decoration arts and crafts in the lead-up to 25 December.
More fun for the family will arrive at the waterfront in December, with Christmas movies at Steampacket Gardens.
Santa's reindeer training academy will run in Lt Malop St outside Central Square all month, offerign children rides on the reindeers' backs.
Santa's mailbox has appeared at the Carousel, too, for children to post Christmas wishlists to Santa for a personalised response from St Nick himself.