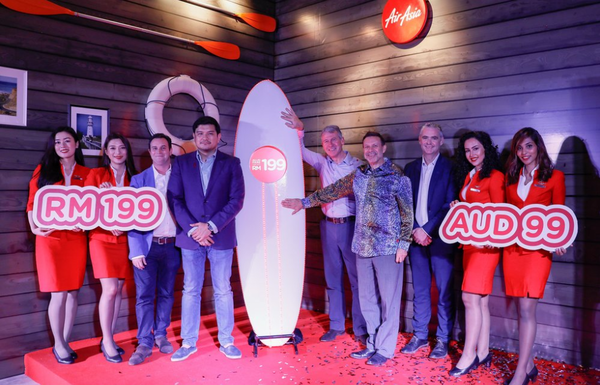 By Luke Voogt
Avalon Airport's first ever international flight will take off on 5 December, AirAsia announced in Kuala Lumpur on Tuesday.
Geelong tourism representatives took a local chef, wine and abalone to the launch of the "Melbourne Avalon Airport" service to promote the region.
AirAsia marketed the service as a "Melbourne" flight to reach a greater market internationally, explained Tourism Greater Geelong and the Bellarine's Tracy Carter.
"But they are putting a lot of work into its connection with Geelong, the Bellarine and the Great Ocean Road," she said.
"We've been pleasantly surprised with how proactive they've been with us in terms of promoting the airport as a gateway to Geelong and the Bellarine."
Jetstar had always marketed flights to Avalon as "Melbourne" services and AirAsia struck a good "balance" between promoting Victoria's capital and Geelong, Ms Carter said.
The airport's 9000 square metre international terminal would ready for the inaugural landing of AirAsia X Flight D7218, chief executive officer (CEO) Justin Giddings said.
"The new international terminal construction is well underway."
The terminal would house state-of-the-art facilities with the latest innovations in customs, and duty free shopping, restaurants and cafes, Mr Giddings said.
"We look forward to offering Victorians a truly efficient and comfortable international airport experience."
The twice-daily return flights, departing mid-morning and evening, will relocate from Tullamarine Airport to Avalon Airport after almost a decade of operation.
The service would mark a new era as the Australia's first dedicated low-cost international airport officially opened, AirAsia X CEO Benyamin Ismail said.
"This is a game changer for consumers, for tourism and for the industry," he said at the official launch in Kuala Lumpur.
"Just in time for the peak summer holiday period and before Christmas, affordable and hassle-free international travel from Avalon Airport in Victoria will become a reality."
The airline had ramped up its presence in Victoria through regional and state tourism marketing partnerships,
"We're also making tweaks to our inflight and ground service offerings, introducing Australian cabin crew and revamping our on-board menu to include locally sourced and produced Victorian items."
An A330-300 plane will to carry up to 377 passengers for the Avalon service, including 12 premium flatbeds in "a child-free quiet zone", the airline announced.
AirAsia launched the service with a sale including fares starting at $99 from Avalon to Kuala Lumpur.
Mayor Bruce Harwood was honoured to promote the best Geelong had to offer "to plenty of international media" at the launch, he said.
"We're expecting a spike in visitor numbers from Southeast Asia over summer."