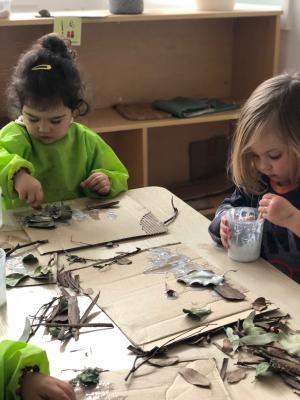 Take a peek inside the classrooms at HEI Schools Lara Early Learning Centre as it throws open the doors to host a virtual art gallery.
The HEI Virtual Gallery will be held live on Facebook (@heischoolslara) at 7pm on Thursday, July 30 showcasing the children's amazing artwork around the theme, 'Nature's Wonders'.
Open since December 2019, HEI Schools Lara Early Learning Centre is Australia's first purpose-built early education centre. Modelled on the Finnish curriculum, which is regarded as one of the world's best, the school caters for about 130 children aged from 12 weeks to six years old.
Nina Jaakkola, a Finnish mentor teacher from Finnish Early Childhood Education (Australia), says that during the HEI Virtual Gallery people have the chance to "step inside" all the classrooms.
"The event will also include an introduction to the displayed artwork and a video explaining the children's different learning journeys," Nina says. "Guests from HEI Schools' centres overseas will also join us and provide feedback on the artwork."
The virtual gallery allows HEI Schools Lara community members the chance to see artwork created by their loved ones, without having to leave the comforts of their home.
It will also give interested parents/carers the opportunity to learn more about HEI Schools. An international preschool concept originating from Finland, it was co-founded by the University of Helsinki, as well as experienced educational and design experts.
Embracing Nordic values of accessibility and openness, HEI Schools intends to bring the excellence of Finnish early childhood education to Geelong, with new centres planned for Norlane (September/October) and Waurn Ponds (middle of 2021).
"We believe it's very important for parents to be able to see the beautiful learning journey that their child has been experiencing," Nina continues.
"At HEI, we believe learning happens everywhere and for that reason we want to show the families not just the end product but the introduction to children adventuring, exploring and discovering new things and using different skills as part of their whole learning process.
"HEI Schools values a child's perspective, creativity and play, exploration, encouragement and social and emotional skills.
"We also focus on providing a rich foundation for the progress of their emotional development, skills and competence as active learners."
"We look forward to seeing you on Thursday evening!"
Physical tours may be booked as well.
HEI Schools Lara Early Learning Centre, Buckingham Street, Lara. Inquiries: 5282 2575 or www.heischools.com.au/lara
Facebook: facebook.com/events/s/hei-lara-virtual-gallery/328594184833981/?ti=icl